Inside the Kenya Airways bid on curtailing rivals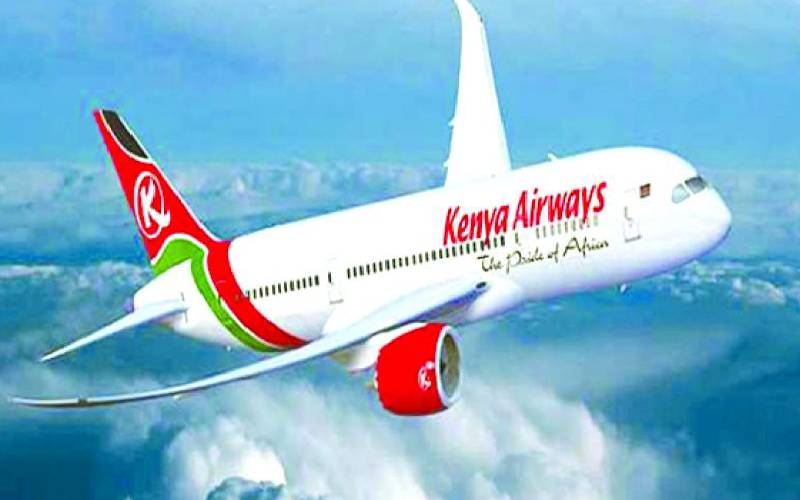 Kenya Airways (KQ) has claimed it loses over Sh10 billion a year by failing to protect its business from competitors.
This includes allowing the rivals to pick up passengers originating from its hub —Jomo Kenyatta International Airport (JKIA).
As a result, the national carrier claims to lose an estimated 500,000 passengers a year. Each of them would have spent an average of Sh20,000 ($203).
These details are contained in the proposed public-private partnership between Kenya Airports Authority (KAA) and KQ, a copy of which The Standard has seen.
A partnership that has been met with stiff resistance from politicians, who argue that the loss-making airline should not be handed to run a thriving enterprise like JKIA.
KQ accuses five major airlines, all enjoying protection from their respective countries, including Ethiopian Airlines and Emirates, of eating into what should be its captive market.
Qatar Airways, Rwanda Air, Etihad and Turkish Airlines are the other firms "hurting" the Kenyan airline, owing to the supposedly skewed competition which KQ says could be remedied if it gets control of JKIA.
KQ argues that it is left to fight it out for passengers from Nairobi with the rivals. It claims that the rivals could offer more competitive prices since most of their business from their home airports is almost guaranteed through binding arrangements.
Liberalisation of the Kenyan aviation industry allows foreign airlines to pick up passengers, move them to their hubs – such as Addis Ababa for Ethiopian Airlines, before connecting them to their final destinations.
Ideally, in the arguments KQ advances to support the takeover of JKIA, preference should be extended to the national carrier by travel booking agents operating within JKIA.
"Kenya is not protecting its home carrier from unfair competition coming from abroad, and most of the airlines flying from Nairobi are carrying passengers from the Kenyan market into their own hubs with the primary objective of transporting them to other destinations," KQ says in the proposal.
As an illustration, which is however not implied to in the proposal, an economy class return ticket from Nairobi to Beijing, booked today for April 1 and back on April 20, would cost Sh44,530 – with a stopover in Ethiopian Airlines' home at Bole International Airport, Addis Ababa.
However, had the ticket been booked so that the journey on the same plane starts and ends in Addis Ababa, the price would be Sh50,649 (14,269 Ethiopian Biir) at today's exchange rates.
Plainly put, KQ wants to earn the revenues paid by other airlines to JKIA while having the power to determine how to treat its rivals at the home airport.
Help banks
Politicians who read selfish interests in the planned takeover say that it is structured to help banks – who are major shareholders following last year's forced conversion of their loans to equity in KQ, recoup some return from their investment.
Specifically, CBA and NIC, which are associated with the first family, lent KQ over Sh5.1 billion, a debt which was capitalised for a stake estimated at about 11 per cent.
At least 11 banks, including the two, had collectively lent KQ Sh17.6 billion which it was unable to repay before they were forced to accept a 38 per cent collective stake in the airline.
However, the airline argues that the viability of the country's main airport is a result of its continued operations where it handles over half of the passengers entering or leaving the country, hence KAA's fate is intertwined with KQ's.
On profitability, the airline claims that 90 per cent of KAA's revenues is from JKIA, with it as the single biggest contributor, while the smaller airports that are also managed by KAA in a loss loss-making mode.
For 2017, the smaller airports collectively reported a loss of Sh5.4 billion, according to the proposal.
KQ says it is only interested in aviation-related assets belonging to JKIA, which should be handed to it in a 30-year concession agreement including runways, terminals, and the 2,300 car parks.