Chaos as police battle Ekeza Sacco members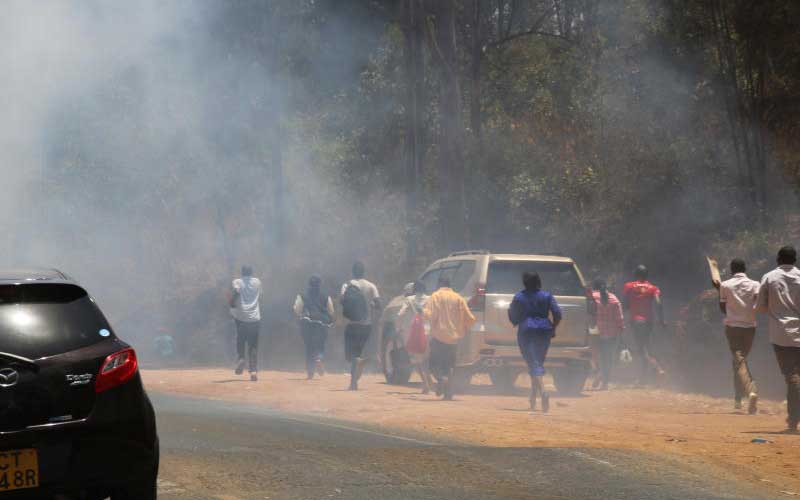 Chaos broke out yesterday at the Directorate of Criminal Investigations headquarters along Kiambu Road when police clashed with members of the troubled Ekeza Sacco Society and Gakuyo Real Estate.
Hundreds of Ekeza Sacco and Gakuyo members had thronged the DCI to register their complaint against the sacco and the land-buying company.
This followed an invite by the DCI last week, who in a notice, invited people living in Nairobi and Kiambu counties with fraud complaints against Gakuyo Real Estate, Ekeza Sacco and Gakuyo Investment Club to report to the offices yesterday.
The three organisations are linked to David Kariuki Ngari alias Gakuyo who is currently embroiled in a Sh1.5 billion Ekeza sacco scandal.
In a letter dated March 13, 2019 signed by John Kariuki on behalf of DCI boss George Kinoti, said his office has received numerous fraud complaints touching on the three organisations.
"To further our investigations in to the matter, the general public who have been defrauded in the scheme and hail from Nairobi and Kiambu counties are advised to report to the DCI headquarters along Kiambu Road on March 18,2 019 at 9am,"reads part of the letter.
Members started streaming to the DCI headquarters as early as 4am and by 9am, hundreds had already queued outside the gates.
About an hour later, a team of officers came out and directed the crowd to record their details in forms they provided and they were to enter in groups of 10, to write their names, phone numbers and the amount of money they lost.
Some of the more restless in the crowd started fighting for the forms, which prompted the officers to ask those from Nairobi County to go home, assuring them that they would be given a new date to register their details.
Hell, however, broke loose after members, irked by the directive, protested by barricading the busy Nairobi-Kiambu road with boulders, causing a huge traffic snarl-up.
Police had to lob teargas canisters to disperse the rioters.
"This is very unfair that they are now telling us to go back home even after closing our businesses and leaving our jobs to come and record our statements. We feel wasted," said Lucy Wambui a member at Ekeza Sacco.
The angry members faulted the DCI for inviting them to come and register their complaints when they knew they did not have the capacity to accommodate huge numbers.
"We came armed with all the necessary documents just as they had requested, and now we are being told that the people from Nairobi should come another day to record statements, this is unfair," she said.
They called on Interior Cabinet Secretary Fred Matiang'i to intervene, claiming they had lost faith in DCI.
By the time the chaos broke out, a good number had already registered their complaints about the three outfits owned by Gakuyo.
Armed police were deployed to the scene and dispersed the crowd before they removed boulders that had been left on the road.