How KQ is trying to regain status as pride of Africa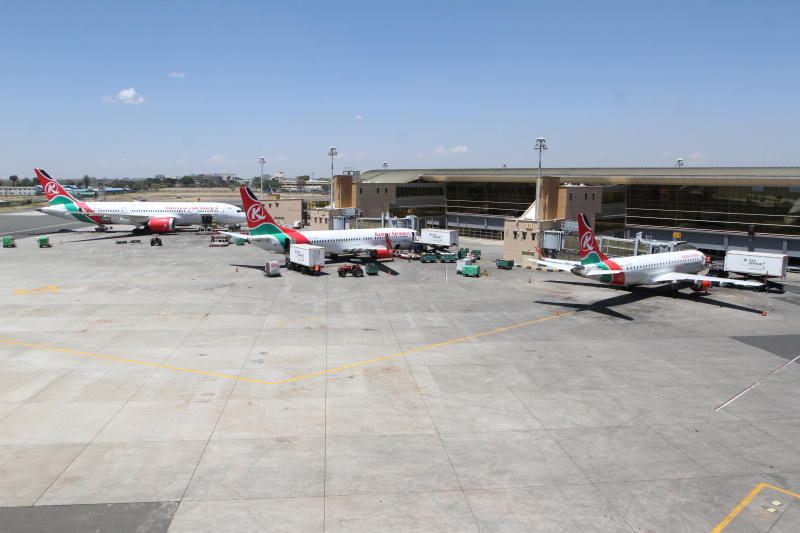 Kenya Airports Authority employees claim working under KQ as envisioned in the takeover would jeopardise their welfare while proponents see it as the only way the bleeding airline can compete.
In essence, no efforts have been spared to revive the airline that can seemingly not find its balance in the highly-competitive aviation industry.
Critics believe this attempt to bailout the airline is informed by selfish interests championed by shareholders who have ultimately acknowledged that Kenya Airways (KQ) might never make money in its present structure.
KQ explained during a meeting with MPs that the deal only involves running Jomo Kenyatta International Airport for the next 30 years and that all assets would still be owned by KAA, but the session did not help soften the objection.
"It is to have a concession operator agreement, meaning the building and all the land will remain owned by KAA and ultimately owned by the Government," KQ Chief Executive Sebastian Mikosz said.
The push has already been approved by Cabinet. Should it sail through, it would mark one of the many attempts to shore up operations of an airline that is suffering from past investment and management blunders.
Prior to the current contentious proposal, the airline and the Government have tried implementing many interventions including the latest one where lenders were forced to capitalise their debts by converting them to shareholding.
KQ defaulted on loans amounting to Sh16.7 billion granted by 11 local banks before the lenders were forced, after staging a fierce protest, to accept 38.1 per cent stake in the national carrier in November 2017.
Equity Bank was owed Sh5.2 billion, National Bank Sh3.5 billion, Cooperative Bank Sh3.3 billion, CBA Bank Sh3.1 billion and Sh2.1 billion from NIC Bank, DTB, and KCB Group.
Others are I&M Bank and Ecobank (Sh824 million each), Chase Bank Sh721 million and Jamii Bora Sh412 million.
CBA, NIC and Jamii Bora are all affiliated with the first family after a recent spate of mergers and acquisitions.
The Government pushed through the proposal whose alternative was initiate winding up of the airline and subsequent attaching of the assets – including aircraft.
Some lenders had argued against forcing them to convert the loans into equity, saying they were facing major financial problems and that they would do just fine with cash from retiring the debts.
Banks were complementing a similar action by the State which converted Sh77 billion debt it guaranteed the airline into shares, raising the public's stake to 48.9 per cent, up from 29.8 per cent.
It would form a string of bailouts extended by the State to the airline, ending with the write-off of several loans.
The decision to convert the debts to shares would also help disentangle KQ from the control of European airline KLM, which had been brought in during the 1996 privatisation.