Rice farmers count loses as hailstones destroy crop worth Sh57 million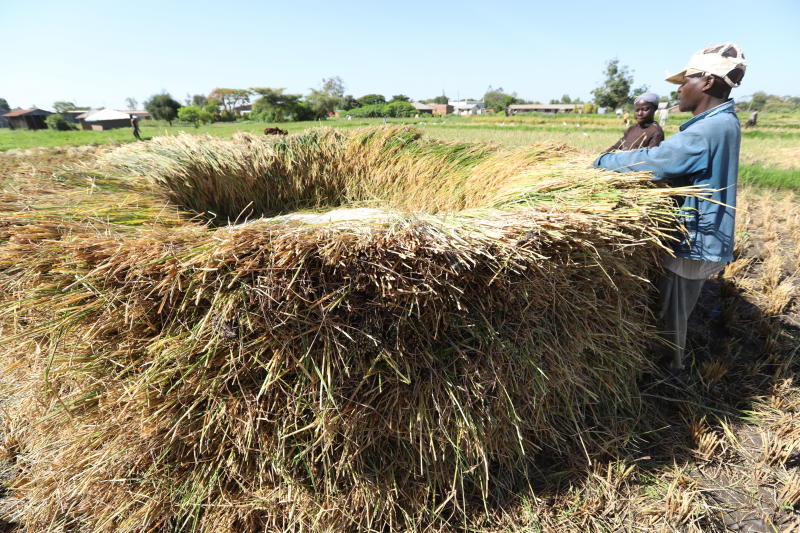 AHERO, KENYA: Several rice farmers at the Ahero irrigation scheme in Kisumu County are staring at heavy losses after hailstones destroyed large swathes of rice estimated to have yielded some Sh57 million.
This came as heavy rains pounded parts of the Nyanza region after a long dry spell.
Interviews with a number of farmers and irrigation officials established that the crops that were destroyed had been due for harvesting.
According to the chairman of Ahero Irrigation Scheme Charles Awero about 681 acres of land with mature rice were destroyed by hailstones on Sunday night as the rains continued to wreak havoc.
He noted that they had projected to harvest about 20,000 bags of rice from the farms that were destroyed.
The farms have been divided into three blocks where some 236 farms were destroyed in the first block, another 286 blocks were destroyed in another block while some 100 farms were also destroyed.
"What has happened to us is very unfortunate. Most of the farmers have been preparing to start the harvests but have now lost almost everything," said Awero.
The farmers noted that it is the first time in a very long time that hailstones have destroyed their crops.
"We are always used to floods but this time round we have been affected by hailstones. It has been raining overnight the last couple of days and it has left a trail of devastation on us," he said.
Charles Ouma, another farmer said that the future is now bleak for most of the farmers and they may not be able to take their children to school.
"The market was ready and everything was in place for this season's bumper harvest but this is not going to be. We can now only hope for either the national or county government to come to the aid of farmers for their next planting season," said Ouma.
Family Bank gets new CEO
Family Bank Board has appointed Rebecca Mbithi as the lender's Chief Executive Officer, subject to approval by Central Bank of Kenya.