New coffee man brews signature drink to the top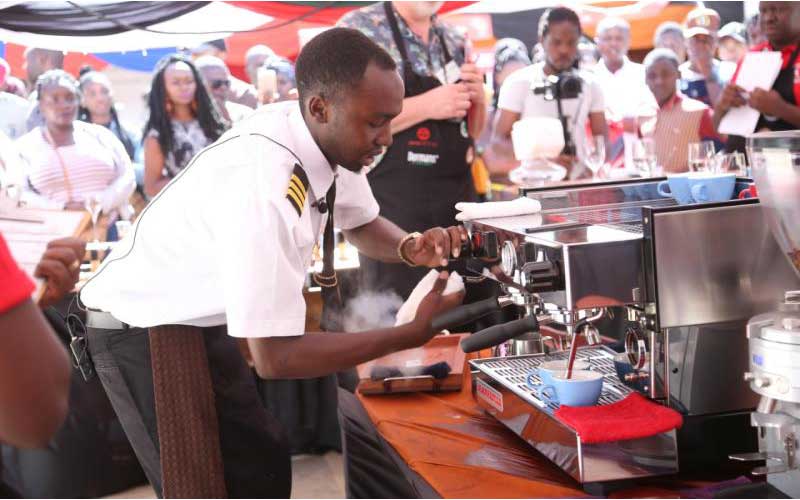 When Hillary Mugasitsi stepped into his new role as head bartender at The Lord Erroll Gourmet Restaurant five months ago, he had never touched a coffee making machine.
Now, he has just been crowned Kenya's top barista and will be representing the country at the World Barista Championships in Boston, USA this April.
The 25-year-old, who won the 16th Kenya National Barista Championships held at The Hub in Karen, says all it took to develop the love for brewing coffee was a push from his manager and the mere fact that the coffee machine was located at the bar where he worked.
"My journey to being a barista started five-and-a-half months ago. I had joined the Lord Errol as a bartender. I actually held my first coffee machine at Lord Errol," he said.
"I was making alcoholic beverages, but since the coffee machine is inside my bar, I got interested in coffee making," said Mr Mugasitsi.
"My beverage manager, Jesse Wambugu, told me there would be a coffee competition and that he wanted me to participate to get knowledge. It wasn't all about winning," he added.
Mugasitsi floored the other contestants with a signature drink dubbed "The Doctor."
"Making your own signature drink means you have to be very creative. I came up with everything I could," he said.
The Doctor
"I named it The Doctor, as I was using natural ingredients like fresh blueberries, cinnamon, star anise and madafu to give it a coastal feel," he said.
Mugasitsi said for the world championships, he would only change a few things so as to keep the originality and the Kenyan feel of the drink.
He remained upbeat that he would conquer the world stage.
"Kenya has good coffee, we need to showcase it to the world and hopefully it is going to bring an award to Kenya," he said.
Mugasitsi trained at Dormans for one-and-a-half months without fail. He beat 42 seasoned contestants at the knockouts last November.
In his thanksgiving speech below is what he had to say
'I am humbled and greatly honoured with the win that I got yesterday as the new Kenya National Barista Champion. I can't tank God enough for this, it has not been easy at all for the past few months, training for long hours and emerging top out of 42 best baristas in this country. I would like to thank a lot of people but let me start with our trainer who is also our Beverages Manager here at Lord Erroll Jesse Wambugu, who has encouraged me so much, my trainer Edward Njoroge from Dormans who has played a big role in my training. A big thank you to the Lord Erroll Gourmet Restaurant team for the enormous support they have given me throughout. Here at Lord Erroll is where I held my very first coffee machine and I have grown a lot since.
Not to forget our director Madam Zahra for all the amazing support, she has been a mentor, a role model and most of all a mother. She has given me encouragement and all round support during this period and is still doing so in all aspects of our professions. Thank you Mama. It is not all about the win but about the knowledge and discipline that I have gained from this. Good willing, I am going to fly the Kenyan flag high and most of all The Lord Erroll Gourmet Restaurant Flag high at the World Barista Championships in Boston Massachusetts.
At the Lord Erroll, teams are encouraged to build and grow organically and the work environment celebrates our individuality by providing us with platforms to showcase our hidden talents. And guess what, this is one of them!!'