How State is killing hopes of jobless youth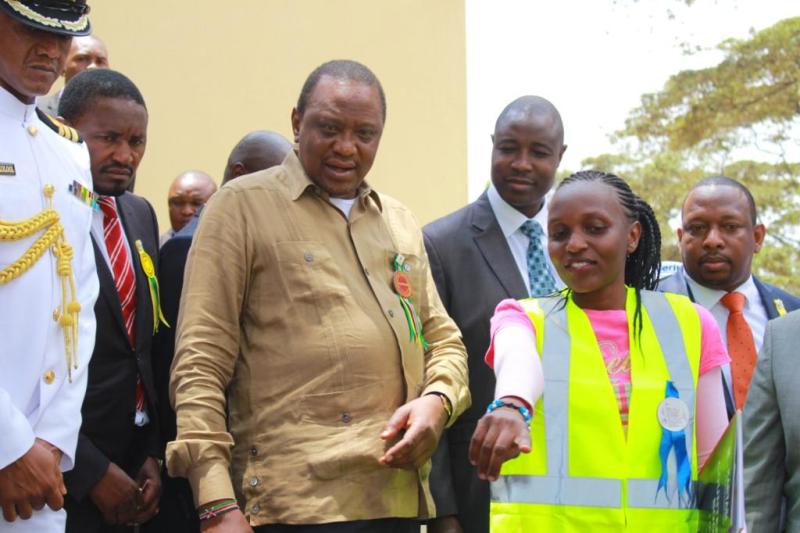 For Mildred Jahenda, the day she met President Uhuru Kenyatta will remain vivid for years to come.
It was October 2018 and Ms Jahenda was one of the exhibitors at the Agricultural Society of Kenya annual show as one of the young people selected by the National Construction Authority (NCA) to showcase innovations in affordable housing.
"The NCA invited young people with innovative ideas for building materials and techniques that can be incorporated into Government's affordable housing project and I was lucky to be one of those selected to exhibit," she says.
NCA had assured the young people during a previous training session that innovators that showed promise would get a chance to supply their products for the Government's affordable housing project.
Jahenda's items on show included an array of interlocking blocks made from easily accessible raw materials such as river sand, which impressed the President prompting him to linger at her stand as she explained what it was all about.
Accompanied by, among others, Agriculture Cabinet Secretary Mwangi Kiunjuri and Nairobi Governor Mike Sonko, a beaming Uhuru gave the young exhibitor an enthusiastic handshake.
"The President seemed very impressed with my exhibition and he shook my hand and told me to keep up the good work," she says.
Other exhibitors rushed to Jahenda's stand to ask what the President had told her and what her next move was going to be. She also landed an interview with the Kenya Broadcasting Corporation (KBC).
Soon after the cameras were turned off, however, the bright future she had hoped would arise from her 15 minutes of fame soon started to turn bleak.
Unemployed and her family's breadwinner since her elder brother died allegedly during street protests in the aftermath of the 2017 General Election, Jahenda has made several attempts to engage Government officials, looking to take her idea forward and get involved in the affordable housing project.
But she has time and again been turned back at the office reception.
"I have been to the Ministry of Transport, Housing and Urban Development three times and been turned back. The last time I was there they told me never to go back," says Jahenda.
"They tell us that the entire project will be executed by Chinese companies and there is no indication that young people will have an opportunity to benefit from any of it."
Jahenda is just one of the many young Kenyans growing disillusioned by the Government's failure to live up to its rhetoric of empowering the youth.
Little change
Data from the International Labour Organisation indicates that despite Kenya's annual gross domestic product growth of more than five per cent in the past several years, youth unemployment has shown little change, standing at a staggering 22 per cent in 2016.
"The danger of a 'lost generation' is running high in Kenya; and most countries in Africa record significantly lower youth unemployment rates than this relatively strong economy," says a recent report by the British Council.
With 500,000 to 800,000 young Kenyans entering the job market each year, Kenya's economy has been unable to provide the necessary amount of employment opportunities. both in the formal and informal sectors.
"Economic progress has primarily benefited the older generation; young females in rural locations constitute the largest share of unemployed Kenyan youth (in absolute numbers), while their counterparts in urban areas are most likely to be unemployed (in relative terms)," the report adds.
Government officials and politicians constantly seek opportunities to align themselves with the youth demographic, often promising to improve young people's fortunes by creating more opportunities.
"We have a youthful, energetic population looking to be constructively engaged to create jobs," Uhuru told delegates at the EU-Africa Youth and Entrepreneurship forum in Nairobi last year.
"Those jobs create opportunities for your countries. Help us create jobs we help stem immigration, your companies grow and keep our people here where they want to be," he said.
Part of the Government's big four agenda on manufacturing that has set ambitious targets to grow the sector's contribution to GDP from eight per cent to 22 per cent in the next three years leans heavily on job creation.
Access support
However, despite these and numerous other assurances from the Government, young people still struggle to access crucial State support, not just in starting their ventures but often also in maintaining them.
After failing to secure a job after graduating with a degree in economics and psychology, Joan Tubei was running a successful grocery shop in Rongai until the county government came calling a few months later.
Together with thousands of other traders and residents of informal settlements, she lost her entire business in an operation the county government said was meant to clean up the city.
"It is very demoralising when you are unemployed and start something from scratch only to have it destroyed," says a disillusioned Tubei. "The impression we get from the Government is you need to have a lot of money or be connected to start and run a successful business."
At the same time, the Government has made several policy interventions in recent years to make advance more opportunities for the youth, women and people with disabilities.
In 2013, Uhuru launched the Access to Government Procurement Opportunities (AGPO) programme with a legal requirement for women, youth and people with disabilities to access 30 per cent of Government tenders.
Over the years, however, the policy has fallen short in terms of opening up State procurement opportunities to young people with lengthy bureaucratic processes cited as a hindrance to many.
Part of requirements to bid for State tenders involves getting certified by several professional and regulatory bodies including the NCA, National Council for Persons with Disability and National Environment Management Authority depending on the tender in question.
And even after jumping through all the hoops and getting certified, an opportunity to supply the Government with goods and services is not guaranteed.
Jahenda, who obtained an AGPO certificate after checking all the necessary boxes, was still unable to convince Government officials to let her get past the reception.
"When you go to their offices you only see older, established business people being ushered in but where does this leave the youth?" she ponders.
"The President is our youth champion and we'd expect him to walk the talk in providing the youth with opportunities to grow our enterprises because for some of us, that is all we have," she says.