Isuzu, Cooperative Bank ink deal on asset finance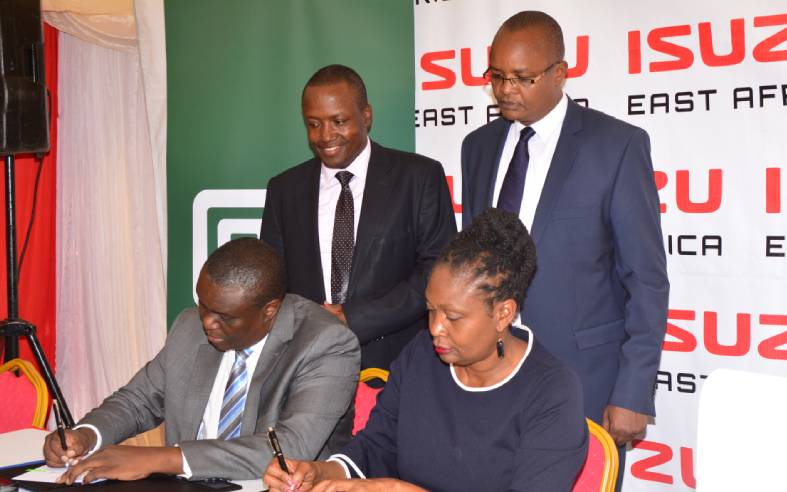 Leading local assembler Isuzu East Africa (Isuzu EA) and Cooperative Bank of Kenya, have announced an asset finance partnership.
It will address SMEs' challenge of access to finance and acceleration for business growth.
In a statement signed by Isuzu communications manager Dancan Muhindi, Isuzu customers will enjoy Sh300,000 working capital.
The fund to empower their business will be payable in 12 months.
The 60-day repayment holiday will allow SMEs to generate monthly instalments, the lowest market negotiation fee of one per cent and the longest re-payment period of 60 months in the market.
Speaking at the signing, Isuzu EA Managing Director Rita Kavashe said the programme will enable customers invest in their business without affecting cash flow.
"SME businesses in Kenya have suffered for the last 18 months due to the prolonged election cycle and slow-down of financing to this sector by banks," Kavashe said.
She went on, "This has drastically affected the SMEs' cash flow and ability to invest in their business."
Co-operative Bank Director for Retail and Business Banking Arthur Muchangi emphasised on the need for SMEs to re-tool and renew their motor vehicle fleet.
"Our message to customers is simple; if you desire to purchase an Isuzu bus, an Isuzu truck or a pick-up such as the famous D-Max, this is the best time," Muchangi said.
Through the partnership between Isuzu and Co-op Bank, customers will get up to 95 per cent financing to purchase a vehicle, and in addition be given two months to use the vehicle before they begin repaying the loan.
"This will give customers space to generate cash to service the loan, which is to be repaid over an extended period of five years. For those Isuzu customers who also wish to boost the working capital of their business, we are providing an additional loan of Sh300,000 to be repaid in 12 months," Muchangi added.
The Retail and Business Banking chief added that the offer comes with a comprehensive insurance package priced at 4.75 per cent of vehicle value (that includes Political Violence and Terrorism).
In addition, Insurance Premium Finance is available to allow customers pay insurance premiums in easy instalments.
Isuzu's Kavashe said the deal with Co-op Bank is crucial, adding that Isuzu EA aims to make it easier for SMEs to access financing for their Isuzu products that SMEs rely on to sustain their businesses.
"Most customers indicated that buying decisions were affected due to banks not willing to lend due to rate cap legislation among other issues. We thought it best to partner with Coop Bank and address the challenges as the economy recovers from the 18 months recession," she said.
Kavashe added that the challenges of doing business in Kenya cannot be solved by one company or one sector alone, but by pooling resources and sharing knowledge, leveraging on existing and new opportunities to drive long-term growth across the Kenyan economies.
The partnership is set to run for one year allowing access to Isuzu EA's wide range of bus, truck and pick up product line up.