NHIF boss spends night at Muthaiga cells as probe tightens amid graft complaints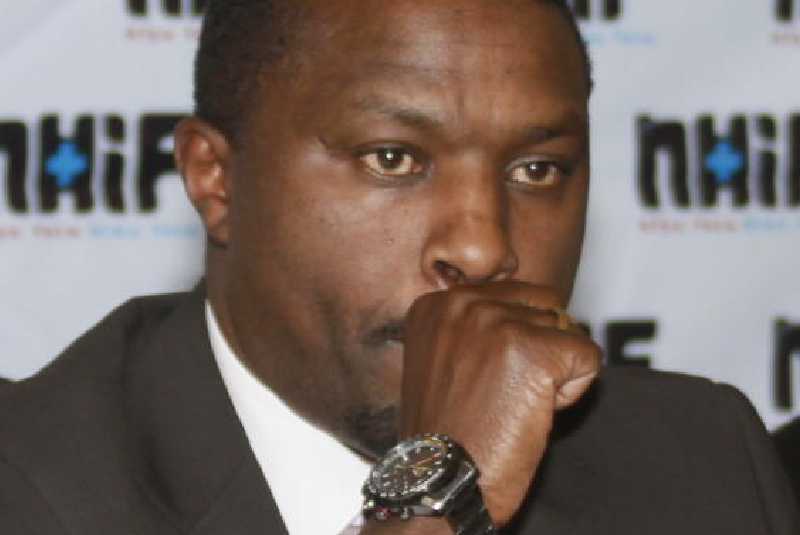 NHIF Chief Executive Officer Geoffrey Mwangi will spend a night at Muthaiga Police Station.
The court will on Tuesday rule whether he will take a plea or not.
Mwangi earlier wanted his and Finance Director Wilbert Kurgat's plea deferred.
Lawyers led by Prof. Tom Ojienda claimed that a charge brought against them is defective.
The top National Hospital Insurance Fund (NHIF) managers are under probe after a team of auditors sent to the institution claimed they had been threatened.
The Ministry of Health had sent internal auditors to examine books at the insurance fund to enable it make decisions following complaints of graft.
But the auditors returned to the ministry claiming they feared for their lives as they had been threatened.
This, according to insiders at the ministry, has stalled planned restructuring to enhance efficiency at the fund.
Health Cabinet Secretary Sicily Kariuki wrote to Director of Criminal Investigations George Kinoti over the said threats, slightly over a week ago. She called for investigations and said action should be taken on those behind the threats.
The auditors are said to have asked to be recused from the planned audit and instead have another team sent in, indicating the veracity of the matter.
Recorded statements
The auditors recorded statements with the police on Tuesday and Wednesday last week.
One of the auditors told police he was trailed into a supermarket and threatened over the matter, while another said he was confronted on Thika Road and warned against the planned audit or else ''he will see fire''.
A source said already a team of detectives have moved in to investigate the claims with an aim of taking action.
"We are investigating many things there including the threats to auditors," said the source without elaborating what they had established in the probe.
Such audits are usually carried out to enable agencies know and make decisions on expenditure. They also form the basis for investigations if there are any complaints or cases of impropriety on the same.
It is not clear who at the fund the auditors had approached, but officials aware of the probe said they were top managers.
Alleged conspiracy
This comes as Director of Public Prosecutions (DPP) Noordin Haji recommended the prosecution of two top NHIF officials over a possible multi-million-shilling fraud.
Haji also recommended the probe of 11 officers over alleged conspiracy to obstruct ongoing investigations at the fund handling Sh33.5 billion from Kenyans.
The parastatal's Chief Executive Officer Geoffrey Mwangi and Finance Director Wilbert Kurgat, who were arrested on Friday night, will be arraigned in court today after the DPP approved their prosecution.
Mwangi is being held at the Pangani Police Station while Kurgat is being detained at Muthaiga Police Station as they wait to appear in court today. Yesterday, both were picked up and taken to DCI headquarters where they had their fingerprints taken.
The officials received tens of visitors who wanted to know how they were fairing on in the cells.
Information Technology Director at the institution Gilbert Kamau is among those under probe in relation to payment of hundreds of millions of shillings to Webtribe Limited.
Webtribe is a software development and consultancy company specialising in payment systems, management systems, card-based systems and systems integrations.
Police are investigating how the online payment gateway and revenue collection systems among other issues work at the fund.
Mwangi and Kurgat are alleged to have conspired to block the investigators from accessing documents such as payment vouchers and other books of evidential value. The two will be charged with conspiracy to defeat justice and disobedience of lawful order.
"I have reviewed the file submitted by DCI and upon consideration of the evidence on record, I am satisfied that there is sufficient evidence to support the charges," said Haji.
Those under probe include Director Strategy, Planning and Marketing Nichodemus Odongo, Director Corporate Services Dinah Kirwa, Head of Registration Compliance and Operations, Gibson Kamau and Procurement officer Johnstone Ouma.
Others are Hannah Muriithi, Grace Kimani, Naomi Aluoch, Gilbert Osoro, Kimlwon Chesaina and Abdul Galgalo of Munishram International Business System.
"The DCI officers have been denied access to several documents by Mr Mwangi and Mr Kurgat. The investigations conducted by DCI have revealed that the two individuals have jointly conspired to obstruct the cause of justice by denying the DCI officers access to the crucial documents," said the DPP.
Obtained orders
Numerous visits by Chief Inspector of Police Nephat Marubu to NHIF headquarters have been futile as the officers are said to have refused to grant him access to the documents sought.
The investigators had obtained orders from Resident Magistrate Sinkiyan Tobiko on September 25 allowing them to search and inspect offices, private residences and business premises of top NHIF officials.
Between 26 and 27 September, the investigation team, led by Marubu, conducted searches at the offices and private residences of senior officers at NHIF head office wherein several documents were recovered by the investigators.
Another search was conducted at the head office on September 28 and several documents were recovered and retained.
"During the cause of investigations several statements have been recorded from NHIF staff and other entities with the ongoing investigations," the DPP said.