Piling debts cost counties dearly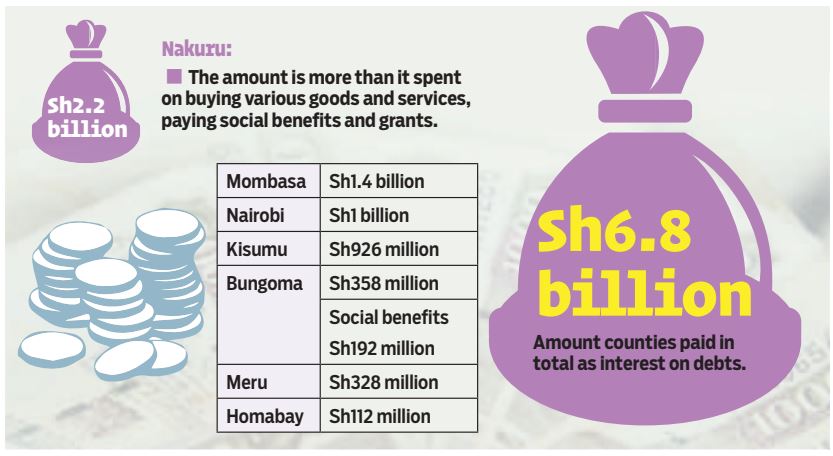 County governments paid interest on debt to the tune of Sh6.8b in the 2016/17 financial year, eating into development cash, new data shows.
According to the Kenya National Bureau of Statistics' Statistical Abstract 2018, Nakuru County used the most money to pay interest on loans it borrowed from various creditors at Sh2.2 billion.
This was more than it did on buying goods and services, social benefits and grants combined.
Nakuru's total debt amounts to Sh3.2 billion and another Sh1 billion the county government inherited from the defunct local authority.
Out of the 47 counties, 29 had no interest payment obligation, with only 18 spending on interests.
While debt accumulation has become a national issue with various studies warning against the rate at which the Treasury has been racking up debt, the report gives a rare glimpse into county governments' indebtedness.
Mombasa County was the second highest spender on interest on loans, blowing Sh1.4 billion on this expenditure item, according to the report.
Nairobi, on the other hand, spent Sh1 billion on interest, followed by Kisumu, which spent Sh926 million, Bungoma (Sh358 million) and Homa Bay (Sh112 million), respectively.
The Controller of Budget, in a letter to all governors and speakers of the county assemblies, wondered how counties had incurred such huge debts yet they were receiving funding from the exchequer each financial year. The letter, which was also copied to Treasury and the Commission on Revenue Allocation, was dated March 1, 2018.
However, county governments have blamed the National Treasury for delaying disbursement of funds, a situation that has forced county chiefs to borrow from banks to pay employees' salaries and settle other bills.
In the first month of the current financial year, Treasury did not disburse any funds to county governments.
Graft allegations
As at June 30, this year, counties had accumulated pending bills amounting to Sh108.41 billion. With outstanding dues of Sh3.7 billion, Mombasa County had the highest pending bills.
The national and county governments have accumulated massive pending bills, with the 47 devolved units reported to owe suppliers Sh99 billion as at the end of June this year.
However, with some of the agencies embroiled in graft allegations, there are concerns that a good chunk of the pending bills could be fictitious. Senators have raised the red flag over the outstanding amount. "We are convinced part of the Sh99 billion pending bills could be a liability for taxpayers and is not valid. It would be proper to have a probe on the bills conducted by the Directorate of Criminal Investigations," said Senate County Public Accounts Investment Committee chairman Moses Kajwang'.
The Institute of Certified Public Accountants of Kenya (ICPAK) has also expressed concern about the ballooning pending bills by both the national and county governments, saying it pointed to reckless expenditure and poor planning.
"The figures indicate a trend of reckless expenditures in awarding contracts and local purchase orders without consideration to the funds' availability," said ICPAK chairman Julius Mwatu.
"Consequently, this status stifles business enterprises, affects private sector growth and job creation." he added.
The biggest county government expenditure remains compensation of employees, with the county governments pumping a third of their funds into salaries and allowances. Wages gobbled up Sh117.7 billion of county funds.
The report also showed that spending on travels and entertainment has in the last five years to financial year 2017/18 more than doubled.
The 47 devolved units splashed Sh5.2 billion on hospitality supplies and services in financial year 2017/18, a significant increase from Sh2.1 billion when they began operations a little over five year ago.
Generally, counties have increasingly spent most of their funds on recurrent expenditure, including salaries and allowances, even as development spending such as in agriculture have been neglected.