Treasury holds Sh50b as austerity kicks in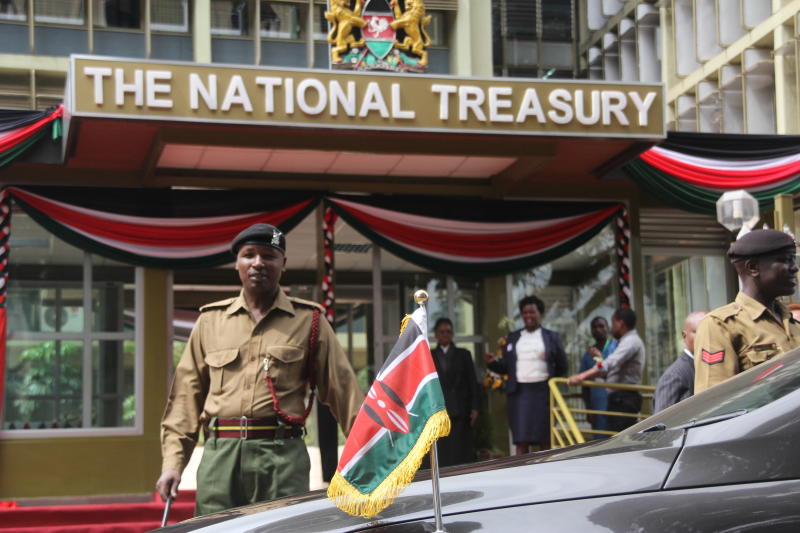 The Government's austerity measures this financial year seem to be bearing fruit, but at the expense of counties and State departments that are now starved of cash.
A new report by the National Treasury shows that the Government retained Sh50.5 billion in the first quarter with the exchequer balance as at end of October reading Sh66.8 billion, indicating significant consolidation of funds.
County governments did not receive any funds from Treasury in July, the first month of the current financial year, while ministries did not also receive any development funds.
Treasury missed its target for spending on devolved units by more than half, disbursing only Sh23.5 billion of Sh53.9 billion in the first quarter.
Expenditure on wages and salaries, a headache for Treasury officials, also declined by Sh16 billion against a target of Sh111 billion with Government paying Sh94.9 billion in the period under review.
Government spent Sh13.1 billion on retirement benefits for its workers, against a projected spending of Sh23 billion in the three months to September at a time that saw Treasury use Sh452.5 billion in both recurrent and development expenditure.
The spending was a decline compared to Sh502.9 billion that the Government was expected to spend on pensions, wages, interest payments and development projects, an indication that the austerity programme being undertaken by National Treasury might be working.
Although the Government has plans to establish a scheme that will see civil servants pay for their own retirement benefits, it was not immediately clear why the Government spent less on pension in the period under review.
Treasury Principal Secretary Kamau Thugge had not responded to our questions by the time of going to press.
"The shortfall of Sh50.5 billion can be attributed mainly to lower absorption recorded in recurrent expenditure by the National Government. In addition, development expenditures by the National Government also recorded a marginal under-expenditure of Sh4.2 billion," said Treasury in the Quarterly Economic Review for the period ending September 30, 2018.
After accumulating massive debt, Treasury froze a number of development projects at the beginning of the current financial year with President Uhuru Kenyatta directing that all ongoing projects have to be completed first.
The President said the only new projects that could proceed are those related to the Big Four Agenda.