Safaricom network outage brings Nairobi CBD to a halt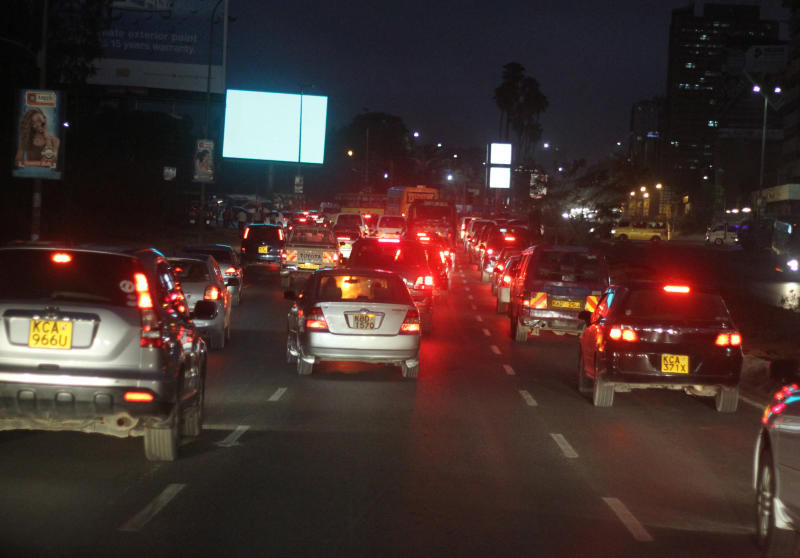 Nairobi's economy was jolted on Friday night after Safaricom, Kenya's largest telecommunications provider, suffered a network outage.
The glitch cut off buyers from sellers and erected walls between friends and relatives in a two-hour ordeal that left millions of users frustrated.
From around 8pm to 10pm, millions of Safaricom subscribers could not call, text, browse or pay bills using their mobile phones as the telco's network in Nairobi's central business district (CBD) sagged in what sources have attributed to congestion.
With money stuck in their M-Pesa wallets, motorists could not pay for fuel, shoppers were kept waiting at supermarket tills and electric, water and other bills went unpaid.
"We had to wait at a petrol station for long because there is a guy who after being served wanted to pay using M-Pesa only to be told that the network was not working. We waited in the queue as he went to look for money," said one motorist.
Some popular joints in the CBD sold fewer drinks and food than usual on Friday nights, with revellers finding it hard to pay for the goods.
Ride-sharing taxis such as Uber and Taxify also bore the brunt of the network failure, with most drivers unable to connect with riders as the outage affected even the Internet.
The number of transactions affected might not have been so huge, but they were significant given the place of Nairobi's CBD as the heartbeat of Kenya's economy.
Between April and June 2018, 418 million transactions, valued at a whopping Sh1 trillion, were done on M-Pesa. This was three times what the four other mobile money transfer services combined managed.
By the time of going press, Safaricom had not yet established the reason for the breakdown.
Asked what had caused the outage, Safaricom Head of Corporate Communications Wachira Kang'aru said: "That is what our guys have been working on. They have not given us their answer yet."
Most complaints on Safaricom's Twitter handle largely seemed to go unanswered though the firm Safaricom acknowledged the problem in one tweet.
"Apologies for the inconvenience Malcom. We are experiencing network challenges but resolution is underway. Please bear with us," read the tweet from Safaricomcare.
Insufficient bandwidth?
A source close to Safaricom's management told Weekend Business that hitch was a result of insufficient bandwidth - a range of frequencies within a given band used for transmitting a signal.
"I knew they were going to have such a problem. Unless they have more bandwidth, they will continually have this problem," said the source.
He said Safaricom's inadequate spectrum meant the network might have been jammed by the massive traffic from its 29.8 million subscribers.
During the fourth quarter of the financial year that ended in June, the listed telco recorded a total of 9.1 billion minutes originating from its network, meaning it handled about 111 million minutes of calls in a day.
There were 154 million messages sent from its network in a day between April and June 2018 and 6.4 million mobile money transactions in a single day on the platform.
"It is like having a small pipe and you are trying to push a lot of water through it," said the source, adding that Safaricom needs to sit down with the Communications Authority of Kenya to fix the problem.
One of the ways Safaricom could have the issue sorted is by compelling Telkom Kenya, which is said to have idle spectrum, to share with Safaricom.
A mobile phone craze in Kenya has sneaked its way into the cost of living basket, technically known as the consumer price index (CPI), with policymakers now considering airtime a serious expenditure for most individuals and households.
Most Kenyans work just as hard to load airtime on their phones as they do to ensure there is a roof over their heads or food on the table.
As at June 30, Safaricom's number of active mobile money transfer subscriptions and agents stood at 29.6 million and 206,940 respectively.
Over 727 million transactions valued at Sh1.9 trillion were made between April and June.
Safaricom announced a 20.2 per cent rise in net profit for the first half of the year to September 30. Profit after tax hit Sh31.5 billion for the six months driven largely by growth in M-Pesa and data services.
This was up from Sh26.2 billion a year earlier. Earnings from M-Pesa rose 18.2 per cent to Sh35.52 billion from Sh30.05 billion.
"M-Pesa is the biggest driver contributing 64 per cent of total service revenue growth, further accelerating displacement of traditional voice and messaging services," said Safaricom Chief Executive Bob Collymore while presenting the results.