State comes up with new maize price as farmers demand more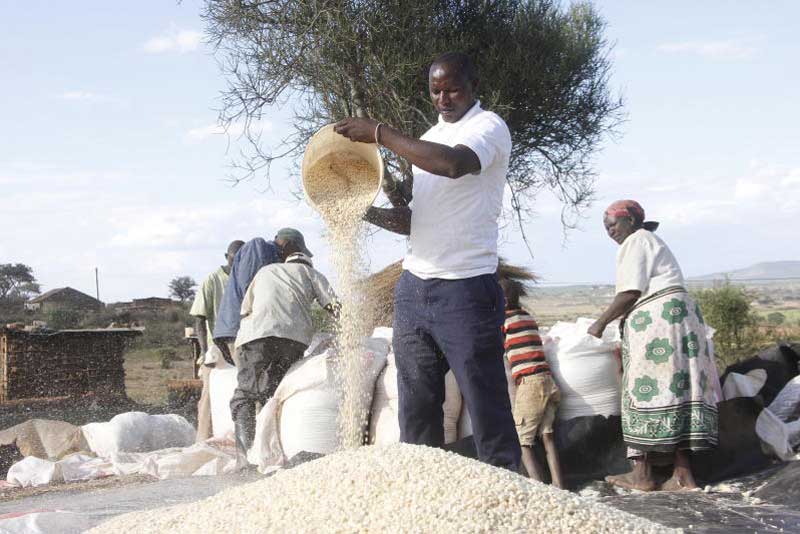 The Government will pay farmers Sh2,300 for a 90kg bag, sources have indicated.
The new prices were said to have been arrived at by the Strategic Food Reserve (SFR) board in Nairobi.
The Kenya Farmers Association (KFA) director for the North Rift region, Kipkorir Menjo, last evening told The Standard he was aware of the new prices.
"We have reports that SFR has set new produce price at Sh2,300 per bag. Farmers had demanded at least Sh3,200 per bag. If the Government implements the lower prices, then it means producers will be incapacitated to return to farming next year, thus those behind importation will continue with their business," said Mr Menjo.
However, the National Cereals and Produce Board (NCPB) corporate affairs manager, Titus Maiyo, said his organisation had not been informed about the new pricing. "We have not been communicated to over pricing for the current season crop. We are waiting to hear from SFR."
Moiben MP Silas Tiren, who met North Rift farmers earlier yesterday, demanded a better price.
Mr Tiren and the farmers, who met at the Eldoret TAC centre, asked the Government to buy maize at Sh3,600 per bag this year.
Last year, the Government, through NCPB, purchased maize at Sh3,200 a bag. Some farmers have yet to be paid for their supplies 10 months later.
On Sunday, Deputy President William Ruto said the Government had released Sh2.1 billion to pay farmers.
Mr Ruto said Ministry of Agriculture officials would meet to determine maize prices.
Tiren said farmers should be allowed to participate in determining maize prices.
"The State imported maize from Mexico at Sh3,600 per bag. Why should it be difficult to pay local farmers a similar price for their maize? Farmers should not be punished through lowering of prices," he said.