Foreigners caught with fake euros, dollars and pounds hidden in an upmarket apartment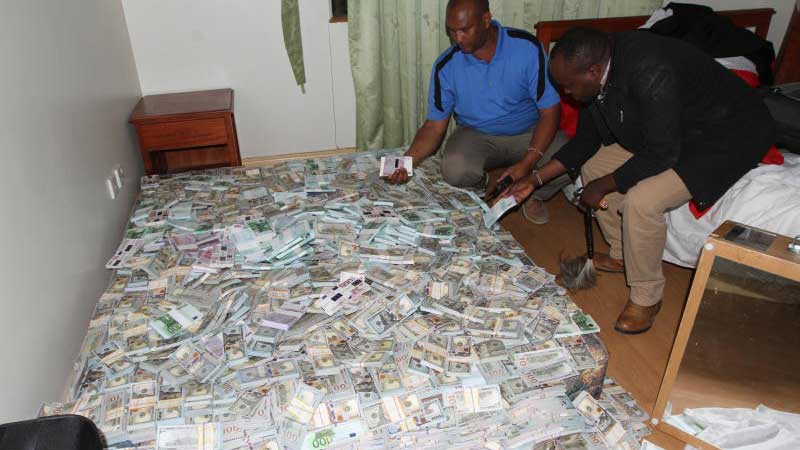 Three suspects were yesterday nabbed by the police at an apartment in Westlands, where fake currencies with apparent value of more than Sh1 billion was found.
The flying squad team following a tip off raided the home only to find huge amounts of fake notes in form of Euros, Dollars and Pounds hidden in of the rooms of the three-bedroom house.
In another room, the police also found strange objects in form of animal skin and beads believed to be used by the suspects for witchcraft purposes.
The police say that one suspect managed to escape, but one of the suspects from Mali is believed to be the mastermind of the whole crime and has been living in the country as an immigrant for ten years.
According to the officer in charge of the flying squad Musa Yego, said that the suspects are immigrants and have been carrying out illegal activities in the country, the men have been conning desperate Kenyans with empty promises of making them wealthy using witchcraft.
"Kenyans come to them with hopes of becoming wealthy only for them to end up in poverty. They have been duping desperate citizens whereby they ask them to come with a certain amount of money and pretend to pray for them through witchcraft rituals and in exchange they are given huge amounts of foreign currencies which in real sense are fake. They are conning them to believe that they go back as wealthy people yet they are actually stealing from them," he explained.
He added that they were in pursuit of the fourth suspect who escaped and were also working on getting more details on the other two suspects who they believe are from Chad.
Mr. Musa Yego also took the time to warn Kenyans of conmen who were out to impoverish them and that they have been on the lookout for Immigrants in the country who have been carrying out illegal activities and taking advantage of innocent Kenyans.
"We are warning Kenyans about conmen and telling anyone who feels like they were victims of this operation to come and report to us specifically if they were duped by these suspects," he said.