US finds an ally in Kenya as Kenyatta meets Trump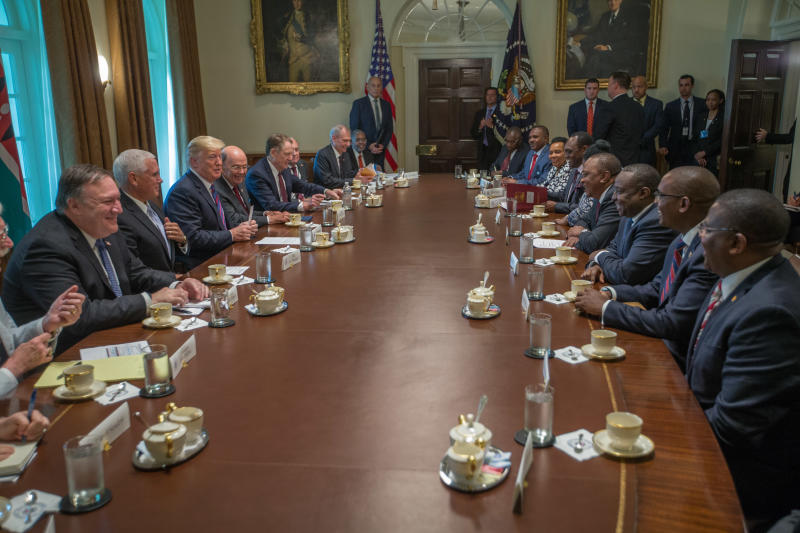 President Uhuru Kenyatta wrapped up his official visit to the US yesterday saying Africa was open to mutually beneficial trade and investments with the world.
Speaking to the BBC after his meeting with President Donald Trump, Uhuru said Africa had come of age and no longer looked to the world for aid but rather how to foster win-win partnerships.
"There has been dramatic change across the African continent where people are beginning to get a better understanding of themselves, who they are and where they want to be," said Uhuru.
Forging partnerships
"We are looking at how we can partner with countries across the globe in partnerships that are not patronising but anchored on win-win positions," he said shortly before leaving Washington, DC, for Nairobi after securing multi-billion shilling energy deals.
Uhuru said a strong partnership between Kenya and the US was essential in achieving his Big Four development agenda in manufacturing, universal healthcare, affordable housing and food security.
The President's trip to the US comes weeks before the Kenya Airways inaugural direct flight between Nairobi and the US in October. The flights are expected to boost trade and promote tourism.
Uhuru described his talks with Trump as "very successful".
"We had a warm meeting and I am pleased with the deliberations. The meeting centred on trade, a Sh23 billion investment was sealed. Another Sh27 billion is in the pipeline," he said.
"We have had strong relations that stretch all the way back to our own independence. We are here to cement that partnership. We are here to strengthen the support we have received as a country."
Uhuru also said he discussed security, especially the fight against terrorism, with Trump.
"We also discussed how to increase trade and investments between our two countries and how US companies can help create jobs for our youths," he said
During the visit, Uhuru also attended a meeting with business executives of leading US companies during which investment deals worth billions of shillings were signed between Kenyan and US companies.
Trump said Kenya and the US would continue to work together to grow their partnership in trade, investments and security.
"We do a lot of trade. We do a lot of defence and security. We're working very much on security right now. This is really great," said Trump.
Uhuru was accompanied by First Lady Margaret Kenyatta as well as Cabinet secretaries Monica Juma (Foreign Affairs) and Henry Rotich (National Treasury) among other senior Government officials.
On the sidelines of the talks, US First Lady Melania Trump hosted her Kenyan counterpart for private talks in the West Wing of the White House.
Ms Trump praised Ms Kenyatta's community initiative.
First Lady
"It was a pleasure having First Lady Margaret Kenyatta at the White House. I enjoyed learning about Beyond Zero and discussing our shared concerns for the well-being of children," she stated.
Prior to the White House visit, Uhuru met and addressed members of the US Business Council for International Understanding (BCIU) and encouraged them to take advantage of opportunities created by his Big Four development blueprint by investing more in Kenya.
Uhuru's visit makes him the third African leader to hold direct talks with Trump.
The others are Egypt's President Abdel Fatah el-Sisi in April 2017 and Nigeria's President Muhammadu Buhari in April this year.