Businesses bulldozed to save Nairobi River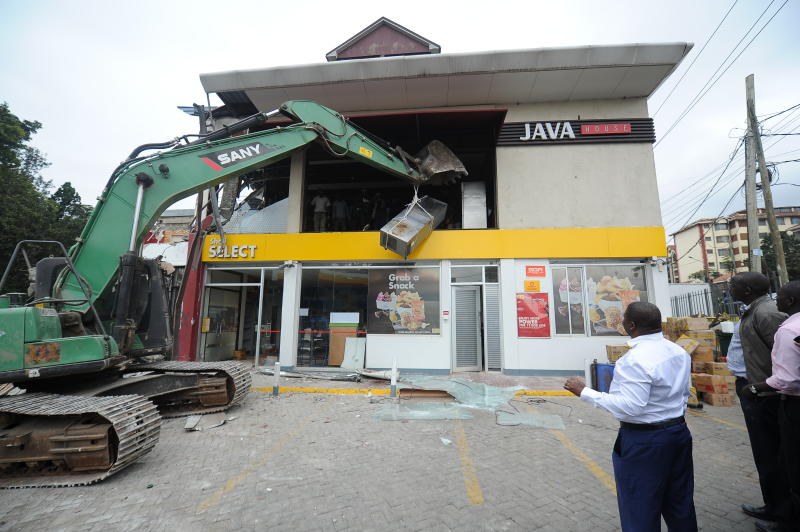 An upscale restaurant and a petrol station were the first casualties of demolitions by Nairobi River Regeneration Committee, targeting apartments and businesses along Nairobi River.
Java Coffee House and Shell Petrol Station on Ring Road in Kileleshwa were demolished by the multi-agency operation targeting illegal structures in the city. The exercise, which began at 5.30am, inflicted heavy losses on traders.
According to National Environmental Management Authority (Nema) officials, the buildings were erected on a road reserve and had also encroached riparian land.
Brenda Nyongesa, who operated a pharmacy that was sublet by the petrol station, told The Standard that she lost at least Sh10 million. Ms Nyongesa said she had just brought in new drug supplies.
"I received a phone call at 5.30am to report to my place of work only to find that the bulldozers had already begun demolishing the pharmacy.
Forceful evictions
"I agree, the business might have been on riparian land, but the forceful evictions were inhumane because we were never issued with a notice to vacate," she said.
She said they were not given time to save their belongings like Java and the petrol station that were given two hours to remove assets before the buildings were reduced to a rubble.
"Shell had notified us that there were looming demolitions, but not in writing. They said they would handle it, only for us to be woken up by the sound of heavy machinery reducing the buildings to dust," she added.
Armed police officers kept guard as business owners and their employees scrambled to salvage items that included gas cylinders, coffee making machines, furniture, food stuff and kitchen utensils. Oil trucks were also busy siphoning oil from the petrol station's reservoir as technicians dismantled fuel pumps.
Shell and Java's management declined to comment on the development. Java's management, however, took to social media assuring that the situation would not inconvenience operations in their other outlets.