Millions of taxes lost as illegal trade thrives at the borders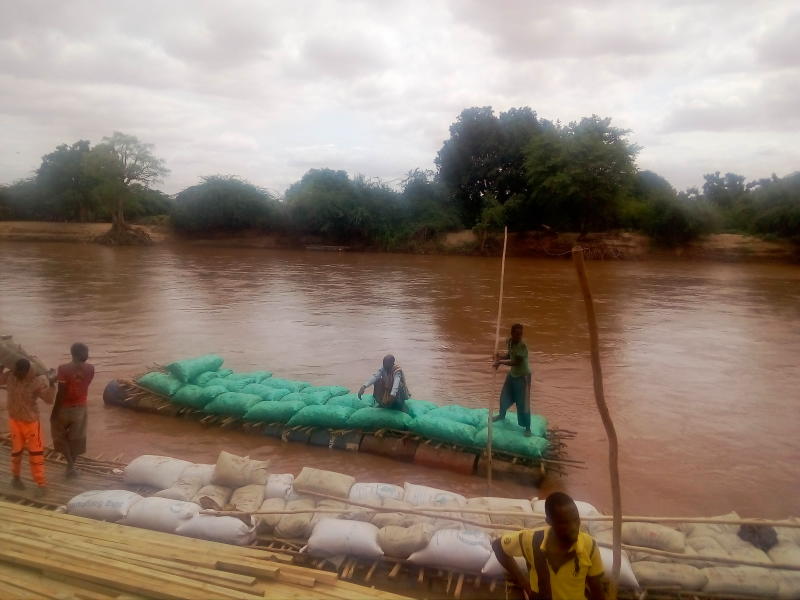 Unscrupulous traders are getting away with millions of shillings in taxes as they move commodities through the Kenya-Ethiopia and Kenya-Somalia borders.
Operating in areas perceived to be insecure, the traders have perfected the art of smuggling goods into the country since Kenya Revenue Authority (KRA) customs offices at the border post control in Mandera County were closed in 2012.
They load Brazilian sugar, cement from Ethiopia, powder milk, rice, timber and onions on rafts along the shores of River Daua then sail to Mandera County from Ethiopia's Suftu area, also known as Melka Suftu.
On the Kenyan side, a group of men offload the goods and ferry them on donkey carts to the local market. Without KRA and Kenya Bureau of Standards (KEBS) officials at this point, the goods are transported unchecked.
"It is a risky business to bring the goods from the Ethiopian side and that is why we charge Sh10, 000 for a full donkey cart. On a good day, I make Sh60, 000," says Mohamed Ali who has been operating in this area for more than 10 years.
Ali says it is common to find a Kenyan Somali with relatives in Ethiopia and Bulahawa through inter-marriage -- and this has made it easier for them to do business together. "You can have breakfast in Somalia, lunch in Kenya and end your day with a delicious dinner in Ethiopia. The same applies to doing business."
Local traders export to Ethiopia mineral water, farm produce such as watermelons and other items believed to be of better quality than those manufactured in the neighbouring countries.
Just like traders along the Kenya-Ethiopia border, those in Bulahawa between Kenya and Somalia conduct business through illegal routes. It is from here that Brazilian sugar sold in some of the shops in Mandera at Sh80 per kilo, iron sheets and other construction material find their way into the local market.
Ali says business in Suftu has been going on well despite the wall between Kenya and Somalia having covered a few kilometres before it stalled near Bulahawa.
"Traders are now importing cement from Ethiopia because it is cheaper than the one manufactured in Kenya," he says.
Cement smuggled from Ethiopia is sold at Sh650 per 50kg bag as compared to the one transported from Nairobi that trades at Sh1,100 in Mandera. However, building contractors who want quality work prefer using locally manufactured cement.
Mandera Governor Ali Roba says the border between Kenya and Somalia should be opened to stop cartels from smuggling goods.
"The county is losing more than Sh1 billion per year because of the closure and this is affecting our revenue collection. Our economy depends on the close business relationship with the neighbours and the border should be opened to stop goods from entering this place through dubious means."
Traders in Mandera have been depending on Somalia's Bulahawa for goods because it gets duty free supplies from Kismayu port.
The 600km distance from Mandera to Mogadishu as compared to 1,200km to Nairobi has also contributed to traders importing goods from the neighbouring country.
At the Customs Border Control Point, some office buildings with bullet holes have gathered dust since the KRA and Immigration Department officers fled the area. The only vehicles visible in the compound -- whose gate has a big chain and padlock -- that operated as the entry point are two buses and a Land Rover that former Somalia President Siad Barre abandoned when his government was overthrown in 1990.
KRA Deputy Commissioner Border Control and Enforcement, Col (Rtd) James Kariuki told the Saturday Standard that the borders with Ethiopia and Somalia are porous and insecure.