Uhuru rallies rich nations behind Big Four agenda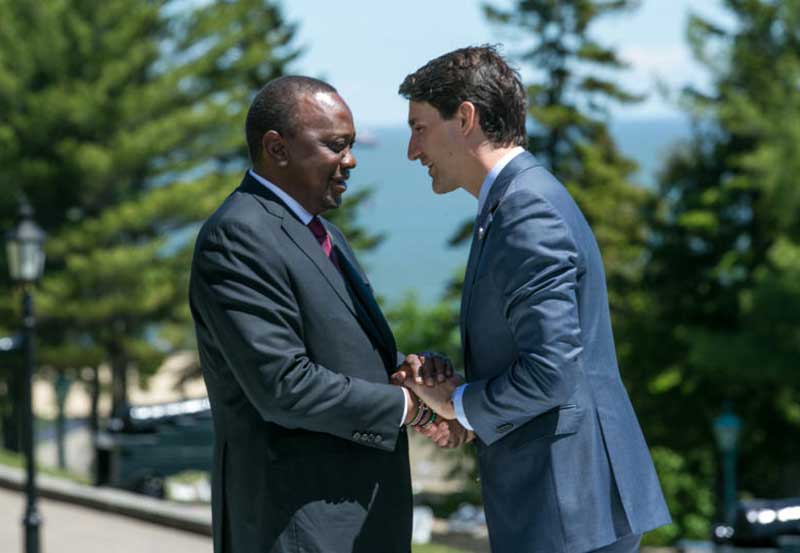 President Uhuru Kenyatta has reached out to powerful economies at the G7 Summit in efforts to rally support for his Big Four development agenda.
The President held a series of meetings - both sit-downs and side talks - with G7 and other African leaders during which he aggressively sought to maintain cordial bilateral relations and form new ones.
Although Uhuru was not able to meet with US President Donald Trump and British Prime Minister Theresa May, he met with the other five G7 leaders in Quebec, Canada.
Notes from the meetings indicate that after his meeting with Canadian Prime Minister Justin Tradeau, the two countries will seek to strengthen bilateral ties for trade purposes.
Ease immigration
This deal is meant to ease immigration for Kenyans to ensure that more willing Kenyans can work in Canada and that more students can take up education in Canada, which is cheaper than the US but offer top quality.
Kenya and Japan seek to keep universal health programmes on course as well as more investments in matters infrastructure.
The President also invited France's President Emmanuel Macron to visit the country in a bid to deepen relations.
"The number of French companies in Kenya has doubled to more than 120 in the last three years, supporting the manufacturing, technology and security agenda. The two leaders want to expand that further as the President seeks investors to grow private sector," read the meeting notes.
And in the spirit of increasing investments in technical expertise in the education sector, Uhuru held talks with German Chancellor Angela Merkel in view of the Volkswagen plant in Thika.
"Kenya wants to copy German model for Technical Vocational Education and Training Institutions (Tvets) to promote technical skills severely short in the job market. The German model combines practical engagement at a company throughout the period the student is in school, which means they walk straight to jobs. Germany is very supportive," read the notes.
Other leaders Uhuru met are World Bank boss Kristina Georgiera, International Monetary Fund Managing Director Christine Lagarde, Jamaica's Prime Minister Andrew Holness, and Senegal's Macky Sall.
From the meeting between Kenya and Jamaica, Uhuru sought to explore quick gains in the aviation sector with respect to Kenya Airways' new route to New York starting in October. It is three hours from New York to Kingston in Jamaica.
Bilateral discussions
Other bilateral discussions were on exchange of culture and entertainment as a bedrock of tourism, and trade where Kenya seeks to explore new markets for tea and coffee.
With Senegal, an agreement was reached for Kenya to open an embassy in Dakar within four months.
During the conference, Mr Trump once again made history after opting out of a joint deal with the G7 nations, leaving the highly-coveted meeting in shambles.
What was expected to be a turnaround sit-down among the world's most powerful economies ended in disarray after Trump instructed his representatives in the joint communique not to assent to it.
By then, the outspoken leader of the free world was on his way to Singapore to meet his Kim Jong-Un, supreme leader of North Korea.
State to tax villas in Mombasa
Private villas, cottages, home stays and apartments that offer holiday stay will be regulated as the Government seeks to widen its tax net.