Coal mining in Mui to start as politics ebbs off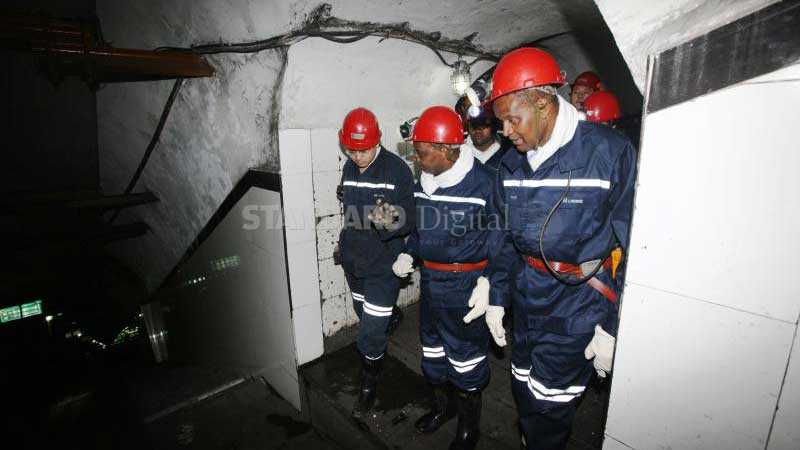 The meeting between Governor Charity Ngilu and Mining Cabinet Secretary John Munyes last week is the latest attempt to unlock the impasse that has grounded coal mining in the county for the last eight years.
Coal deposits in the county are believed to the largest in Africa and could provide affordable fuel to power industries hence boosting the country's revenue base, but exploration has been held back by political bickering and disputes over the sharing of wealth.
The discovery of an estimated 400 million tonnes of commercially viable coal reserves in Block C in Mui Basin, with an estimated value of Sh3.4 trillion ($40 billion) in 2010, was seen as a major breakthrough in making Kenya an industrial hub.
According to Mining Principal Secretary John Omenge, the country needs at least 10,000 megawatts of power for industrialisation and to realise double-digit economic growth.
But politics in Kitui County remains still a major stumbling block to accessing the cheap source of energy.
Vision 2030
The country came closer to unlocking Vision 2030's industrialisation outline, under its economic pillar, after awarding the concession to extract part of the mineral resources in Bloc C and D of the Mui Basin to Chinese firm Fenxi Mining Industry Company.
However, some political leaders delayed the process of coal mining and coal utilisation by instituting allegations against the Chinese company, among them that it was a briefcase entity lacking the financial and technical capability to undertake the mining project.
For seven months in 2012, Fenxi sponsored trips to China for delegations of Government officials, community and political leaders, and journalists to separately travel to the Far East country to familiarise themselves with coal mining operations in China.
The first delegation comprised members of the Inter-Ministerial Committee on Coal headed by Mr Omenge. The second had local leaders and representatives of Mui Basin Block C and D, led by former Kitui Senator David Musila.
Then followed another delegation led by Kenyan Ambassador to Uganda Kiema Kilonzo representing Block A and B.
A self-sponsored delegation was made up of the then National Assembly Committee on Energy, Information and Communication led by chairman and former Karachuonyo MP James Rege, and the last delegation was led by the Ministry of Energy's former Senior Deputy Secretary Paul Ngatia and included journalists from various media houses.
In September 2012, a team of journalists visited the Fenxi enterprise that specialises in coal production at its headquarters in Jiexiu City of Shanxi, China's top coal producing region, besides visiting community projects under the company's Corporate Social Responsibility docket.
Various aspersions were cast on the suitability of the mining company regarding its financial and technical capacity, with then Ministry of Energy and the Musila team supporting commencement of the mining activities while the Kilonzo team vehemently opposed any activities by the Chinese company.
Fenxi Mining Industry Group was introduced to Kenya by George Kariithi, a Kenyan businessman with international business connections in Africa and Asia, through his company, Great Lakes Corporation. He owns the company with a New Zealand national, Ian See Won.
The Chinese investors who Dr Kariithi approached in China were Li Yu Xin and Zhang Wusheng of Fenxi Mining Industry Group.
Kariithi clarified that Fenxi had the expertise, financial and technical capacity to undertake the mining of coal in the Mui Basin.
Government information
Official Government information indicates that Fenxi will own 89 per cent of the mining venture, while the Government will control 11 per cent of the equity.
This was in accordance with the tender regulations that demanded a minimum of 10 per cent equity for the Government from the bidders.
Apart from the equity shareholding, the Government will be entitled to a 23.6 per cent share of gross revenue generated from the coal mined in Block C and a 22.1 per cent share from Block D. The two blocks have an estimated value of Sh8.5 billion.
Speaking from his office in China, Fenxi General Manager Zhang Yanglong said the company enjoyed support from strong financial institutions including the China Cinda Asset Management Company, China Huarong Asset Corporation, China Construction Bank and China-Africa Development Fund.
Mr Yanglong said Fenxi Group was a large State-owned organisation that specialised in coal production and integration construction, building materials, power generation, chemical engineering, machinery manufacturing and other fields.
Last week, the Kitui governor held a consultative meeting with Mr Munyes, Omenge and other senior mining officials in Nairobi where a number of resolutions were agreed on to unlock the impasse that has stalled the minerals project for the last eight years.
The pact included having Fenxi and other companies awarded concession and tenders to move quickly and start extracting minerals in Mui Basin and other mineral zones in the county.
The agreement was witnessed by Wiper party leader Kalonzo Musyoka and a host of Kitui MPs.
"We want to acknowledge that the Almighty God has blessed Kitui County with enormous mineral wealth, including coal in the Mui Basin, limestone in Ngaaie and Kanziku, iron ore in Ikutha and Kyuso, graphite in Ikanga and copper in Kwa-Mutonga. These and other resources must harnessed without further delay. This is our common stand," Ngilu said.
The governor declared "enough is enough" and warned that she would not sit and watch as things were done haphazardly as far as mineral exploration in her jurisdiction was concerned.
Munyes acknowledged Ngilu's comments, adding that over the years, there had not been full exploitation of the mineral wealth in Kitui to address extreme poverty and under-development in the semi-arid county.
The agreements include guidelines on leasing land from the community for a considerable time for the investors to accomplish their mining.
The company is also required to support mining of coal and push for construction of a coal plant in Kitui and another one in Lamu County.
Robust engagement
There was also need to start a new and robust engagement between the county and national governments, community landowners, mining investors and all leaders of Kitui and persons of goodwill, to ensure that "we carry out mineral operations in the county through a transparent and sustainable manner".
However, barely two days after the agreement, Gideon Mulyungi, the MP for Mwingi Central, where Mui Coal Basin lies, and Woman Representative Irene Kasalu opposed exploration at the stalled project, arguing that Ngilu had sidelined them in the planning process.
Mr Mulyungi and Ms Kasalu told residents in the larger Mwingi region to reject any moves by the governor to arm-twist them into accepting Fenxi and other companies awarded tenders for mining.
The MPs want the contract halted, claiming that since Fenxi was awarded the tender in 2013, nothing had been done on the ground and that there had been no discussion on resettlement plans. They also described coal as a dirty energy with many health consequences.
But Ngilu blasted the MPs and told them to swallow their pride and let Kitui people reap their wealth without undue political interference.
"Why do these leaders who were recently elected want to derail mineral extraction at this point? Why? It is wrong to deny Kitui people their right to exploit their wealth. These leaders are selfish and visionless," the governor said without naming the MPs directly.
Kariithi, who introduced Fenxi to the coal mining opportunity in Kenya, said the issue of local ownership does not arise because the coal concession was a joint undertaking exclusively between Fenxi and the Government.
"The Government was free to redistribute its percentage of shares to the Kamba community under Kitui County or manage them under the central government," he said.