400 tonnes of illegal sugar destroyed and dumped at sea in Mombasa Port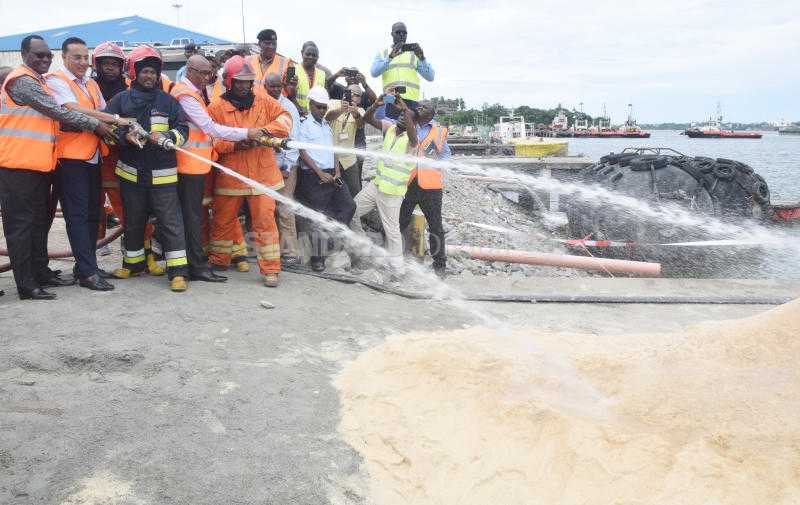 State agencies Saturday started the destruction of a consignment of 400 tonnes of sugar worth Sh28 million that was impounded by the Kenya Revenue Authority (KRA) last year at the Port of Mombasa.
The sugar was seized for being illegally allowed into Kenya without duty or wrongly labelled and concealed to evade duty.
The destruction witnessed by Cabinet Secretaries, Adan Mohamed (Industrialisation) and Najib Balala (Tourism and Wildlife) involved pouring the sugar onto a pier at the port before the Kenya Ports Authority (KPA) fire brigade sprayed water onto it.
The sugar dissolved before finding its way into the ocean waters.
"We are here today to witness this destruction. This is a clear message to rogue traders that Mombasa and Kenya in particular will never be a dumping ground for any kind of contraband goods," Mr Mohamed said.
The CS added that those who imported the consignment failed to make full disclosure of the cargo.
Mohamed also commended government officials who detected the illegal sugar importation.
Environmental experts told Sunday Standard that the destruction of sugar at sea was the best method.
"It has been done before. Dilution factor is very high in water with little or no impact on the marine eco-system," a marine environmentalist said on condition of anonymity.
The sugar in the containers imported by Ms Flowlmer Distribution Company of Nairobi was in bags labeled Kakira Sugar Company, according to KRA Commissioner for Customs and Border Control, Julius Musyoki.
Kakira Sugar Company is a Ugandan sugar milling company.
A copy of a cargo manifest seen by Sunday Standardshowed that the consignment was shipped into the country from Dubai aboard a vessel christened Nikoline Maersk.
Industrialisation CS said that the imported sugar was disguised as 'dividing heads, part of grinding machine' and 'truck boring mesh' instead of imported sugar, a restricted commodity.
Balala said that the Government will ensure no contraband goods flood the local market.