Boos, applause as senators clash with governors on spending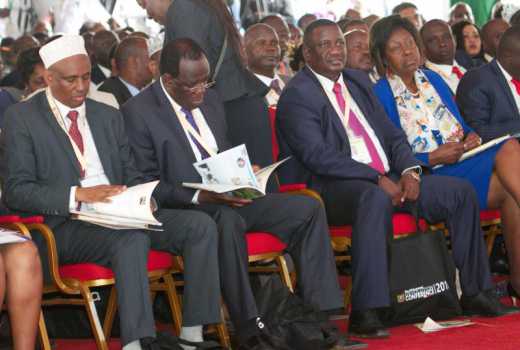 Senators and governors faced off on accountability of resources assigned to counties and obeying summons.
The perceived differences played out even as both agreed that there was need to allocate adequate resources to the counties and that the disbursement should be prompt to avoid paralyzing service delivery.
Senate Majority Leader Kipchumba Murkomen (Elgeyo/Marakwet) told the conference that governors had been appraising themselves over the years and frustrating efforts by Senate to hold them to account.
"Let us speak the truth and not massage egos. When we summon governors, it is for accountability purposes, but they question why we are summoning 'big people'," said Murkomen, amidst applause from the delegates.
According to Murkomen, the differences between Senators and Governors was a clash of egos.
"They call us 'small people'. We summon them as friends, not to embarrass them, but to, as per the Constitution, have a conversation on how public funds are used. Citizens have a right to oversight their leaders and it's done through us."
He maintained that county budgeting should be people-driven and that governors must accept to be audited by Senate.
"Devolution is bigger than anybody. It's bigger than the senators, Members of the County Assemblies or the Speakers. It means devolution of power and resources to the lowest level and expanding the democratic space," he said.
Murkomen called for an end to the hitherto frosty relationship between Senate and the governors that characterised the first years of devolution.
Senate Speaker Ken Lusaka, Minority leader James Orengo (Siaya) and Majority Deputy Whip Irungu Khangata (Muranga) also voiced their concerns on the matter, calling for closer working relationship between the two sides.
"The greatest source of conflict is unmet and unmatched expectations. The dust has now settled, the scores are even, and our task must be to level expectations and forge a common good for growth and development," said Lusaka.
Orengo advised the leaders not to shift goal posts and instead be answerable to the people.
"The blame game has been shifted from the national government to counties. There is need to ensure adequate resources go to the counties. The funds should be properly utilized," he said.
He added, "Let's address concerns of corruption allegations in counties without passing the buck."
Rattled by the sentiments, Governors Jackson Mandago (Uasin Ngishu) and Nderitu Mureithi (Laikipia) accused the senators of unfair criticism.
"Devolution is working according to the law. I want to clear a perception created here on the use of public funds allocated to county governments. We are guided by the budget-making process, where we engage the public," said Mr Mandago amidst boos from the delegates.
"It is not right to say governors are not attending senate invites. We fear nothing and the senators should be honest and not up to ulterior motives," he said.
Mandago claimed that some senators were eyeing the gubernatorial seats in 2022.
"You know the process of allocating funds. You have your governor, Tolgos, sit down with him and lecture him, do not come here to publicly do the same," he faulted Murkomen.
Governor Mureithi also sustained the argument, stressing that governors accepted audit and that the systems of checks and balances were working.
"We do so for the benefit of the country. We welcome criticism, but it should be positive and not meant to cause unnecessary acrimony," he said.
"Our conversations must be candid and honest and devoid of acrimony," he added.
Council of Governors (CoG) chairman Josphat Nanok (Turkana) conceded that transparency and accountability were critical in actualising devolution.
"Our fidelity is to the country. We are ready to be audited," he said.
In his speech, President Uhuru Kenyatta lauded the chairman's resolve, saying it was important that public funds be put to proper use to realise maximum benefits.