Coast seeks new income as SGR takes over cargo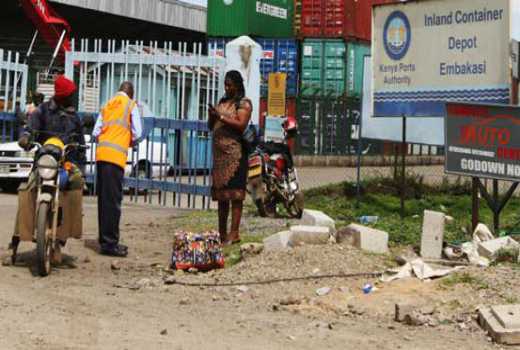 MOMBASA, KENYA: Businessmen in Mombasa and other coastal counties are seeking alternative incomes streams following the massive loss of business to the Standard Gauge Railway. According to reports, the region's economy will experience a decline of at least Sh40 billion in revenues this year.
And there are new fears that the future of the region could be bleaker following proposals by the National Treasury to abolish tax exemptions on hotels and other hospitality ventures in the June national budget.
Tourism is a pillar of the region's economy besides the port in Mombasa.
Container storage
An urgent meeting of the business community called by Mombasa Senator Mohamed Faki in Mombasa last week resolved to form a steering committee to push for speedy establishment of the Dongo Kundu Special Economic Zone (SEZ) to promote manufacturing and job creation.
Johson Mutuku, a consultant with Stratton Consulting Ltd, told the meeting that the SGR cargo service was expected to transfer 300,000 containers this year from the port of Mombasa to Nairobi at an average of Sh70,000 per container. This will lead a Sh21 billion loss of business for truckers.
Mr Mutuku also noted that Container Freight Stations (CFSs) were likely to lose Sh12 billion in missed container storage this year while bus firms and other businesses would also report declined revenues in Mombasa and its environs.
"SGR is good for business nationally, but will cause a decline in revenues for many businesses in the Coast region. It is important for business people to adopt alternative businesses instead of lamenting," he said.
Mr Faki said the committee of business people would spearhead the Dongo Kundu Special Economic Zone that will inject new revenues in the Mombasa and Coast economies following the loss of the transport business to SGR.
"Mombasa is already experiencing a huge decline in revenues following the commissioning of the SGR operations. We believe the implementation of the SEZ at Dongo Kundu is too slow and that is why we are forming a local committee to push Government to speed up the project," the senator said.
He said the Mombasa SEZ project, expected to encourage manufacturing, packaging, hotels and other business, had stalled.
There is a proposal that the Dongo Kundu SEZ will be established near the port of Mombasa and will require a bridge and a 17km road from Miritini in Mombasa County to Ng'ombeni in Kwale County.
According to Faki, the national government has focused more on establishing the Naivasha Export Processing Zone (EPZ) and ignored Mombasa even as business was shifting from the Coastregion.
He said the Government should allocate more funds to put up the SEZ infrastructure and ensure the project was operational soon to cushion the Coast economy against collapse.
"We are worried that soon, cargo destined for the hinterland and transit countries will be directly lifted by SGR to Naivasha and the economy of Mombasa will suffer a huge beating," Faki argued.
Hezron Awiti, a CFS operator and road transporter, expressed fears of a looming decline in business and massive loss of jobs after the Government appeared to force cargo owners to use SGR.
He urged the State to allow for market forces to determine the use of SGR and facilitate CFSs to operate as free trade zones to encourage businesses growth and create jobs.
Lower tariffs
"There is a looming job crisis in Mombasa because CFS operations are being scaled down and cargo is being forced on SGR. Government should allow for market forces to take root and allow cargoowners to choose which logistics solution to use. We are also asking the Government to allow CFSs to operate as free trade or duty free zones to attract trade and create jobs," said Mr Awiti.
Truck and CFS owners in Mombasa are also complaining that Government has offered lower freight tariffs to those using SGR service, creating unfair competition while Nairobi begins to experience the boom.
Business people in Mombasa say they have invested millions of shillings in CFSs and trucks, and require fair treatment from the State rather than the "monopoly" that appears to favour SGR and which could cause them to close shop.
Kenya Railway Corporation MD Atanas Maina projects that 11 cargo trains will be in operation daily by December to highlight the scale of freight to be moved on the SGR. He said the trains would move nearly 1,200 containers daily in a proposition that would naturally be resisted initially.
"In the long term we expect that businesses will be affected but the bigger picture here is that it will be for a common good," said Mr Maina.