Broke Treasury opts for Sh80 billion budget cuts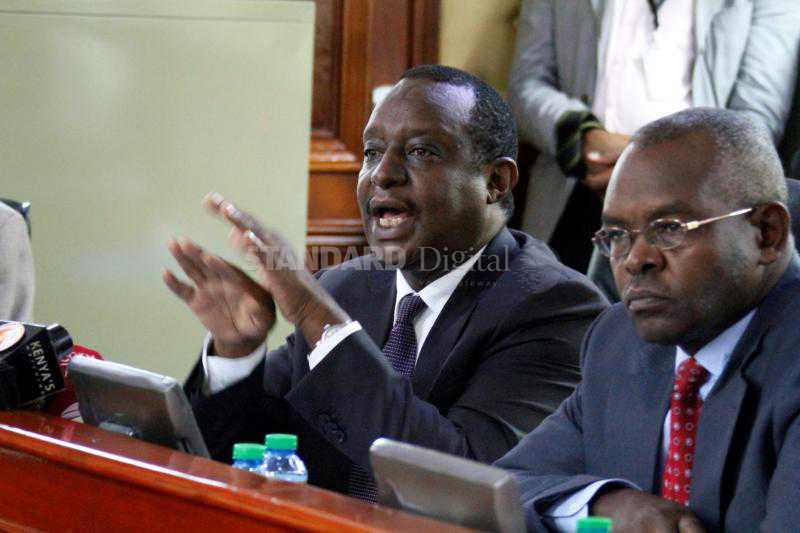 With revenues shrinking and the Government running out of room to borrow more to fund an expensive budget, Kenya is now instituting tough austerity measures.
Treasury Cabinet Secretary Henry Rotich said yesterday senators needed to reduce county budgets by up to Sh18 billion as he prepares a second supplementary budget targeting national budget cuts of up to Sh60 billion.
He was speaking before the Senate Finance and Budget Committee, which wanted to know why Treasury had not released money to counties.
No full share
"If you were to tell us to disburse 100 per cent, the Judiciary, Executive and Parliament also want their full share and I can't get the revenues and you do not want me to touch borrowing, it's impossible. I mean something must give," CS Rotich said.
Treasury is tucked between a rock and a hard place and has resolved to cut the budget by over Sh80 billion for the first time as ambitious tax targets fall below expectations.
Principal Secretary Kamau Thugge admitted that Kenya has hit its maximum stock of debt this year and needed to start climbing down.
Economists see debt as cycles where you get a boom when the money comes in but a rough patch when you have to pay, a pain treasury has been avoiding as it took more loans to pay older loans rather than rely on organically generated revenue.
When the year started, the government projected that it could raise a total of Sh1.7 trillion towards funding the Sh2.2 trillion expenditure.
The taxman was to collect Sh1.5 trillion while ministries, departments and agencies were to collect Sh156 billion in a kitty referred to as Appropriations-in-Aid.
Following three months of the financial year, it became clear that this was all too ambitious after the Kenya Revenue Authority fell short by Sh40 billion and missed half-year target by Sh44.8 billion.
The ministries were also behind schedule by Sh23.5 billion for the period under review.
Treasury had promised to reduce the gap between what the country borrows and what it spends to 3 per cent of the Gross Domestic Product, but has been unable to bring it down below 8 per cent of the GDP or about Sh600 billion.
Tighten expenditure
"We have to tighten expenditure for national governments and we need to talk to county governments to institute austerity also. Every institution needs to tighten its belt," he said.
Makueni Senator Mutula Kilonzo Junior said the Government was being insincere since Deputy President William Ruto had just promised governors more money only for Treasury to come and target cutting the budget that had not even been disbursed yet.
Treasury, for the better part of this year, delayed disbursement to counties.
Rotich said, so far, only Sh134 billion of the Sh302 billion to be given to the devolved units had been disbursed.