Distillery now wants estate demolished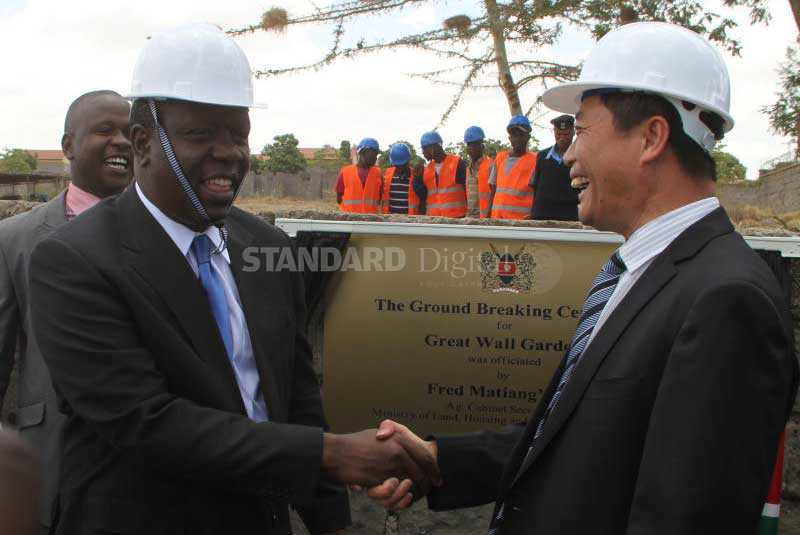 A raging row between an alcoholic drinks manufacturer and a multi-billion-shilling housing development in Athi River is set to escalate after the former contested a closure order.
National Environment Management Authority (Nema) ordered the London Distillers factory on the outskirts of Nairobi closed more than a year ago following numerous complaints from the residents of Great Wall Gardens owned by Edermann Property Ltd.
The residents had complained that the distiller was emptying toxic waste water into the surroundings, leading to discomfort and diseases.
But the order has never been enforced despite simmering hostilities between the firm and the residents. London Distillers now wants the residential estate to be demolished.
The distillery has written to Nema, arguing that Great Wall Gardens sits on an industrial zone and should, therefore, be brought down.
"We request Erdemann Property Ltd to demolish the said residential properties on the affected plots, failure to which we request the Director General Nema to issue demolition orders forthwith," wrote Mohan Galot, the billionaire who owns the distillery, in the letter dated February 5, 2018 to Nema boss Geoffrey Wahungu.
Protracted battle
The latest development could result in a protracted legal battle as residents of the Chinese-built housing estate seek the enforcement of Nema's earlier directive to have the distillery closed down.
Nema cleared the construction of both the estate and the factory, albeit at different times.
The estate was built long after the distillery and would typically have also been approved by the local authorities, meaning the claims that the area is gazetted as an industrial zone might not hold.
The directive for the factory to cease operations was issued on February 6, 2017. Mr Galot's letter came amid soaring tensions in the area as the residents' association vowed to have the distillery, which manufactures beverages for the low-end market, uprooted.
The plant is among many owned by the billionaire who is also associated with similar businesses in Uganda and, until recently, the United Kingdom.
Richard Mutua, chairman of the residents' association, complained about the defiance demonstrated by the distillery owners, claiming that the waste disposal from the plant was causing discomfort and unnamed diseases.
"We the undersigned do wish to call upon the relevant Government agencies and Nema to take immediate action to stop the rampant environmental pollution that is being discharged by London Distillers," Mr Mutua told The Standard.
He claimed that the factory was being operated without any effluent treatment works.