CS Macharia gives Mombasa Port authorities, users 48-hour ultimatum to clear problems facing SGR freight service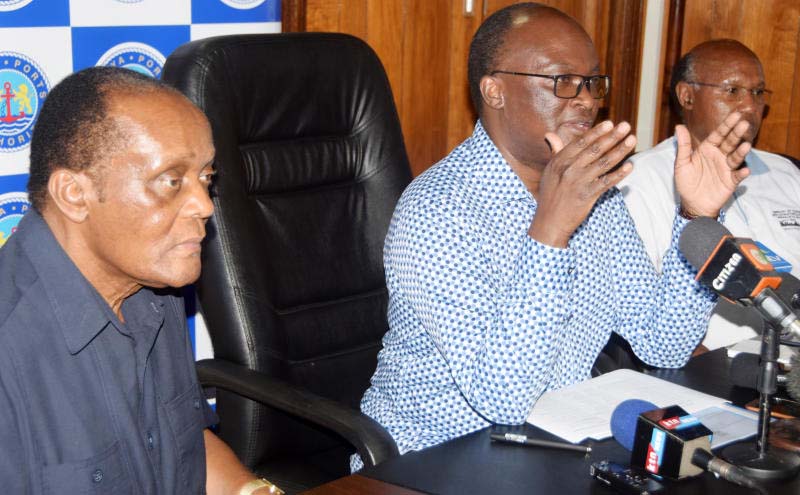 Transport Cabinet Secretary, James Macharia has given a 48-hour ultimatum to Port of Mombasa management and its stakeholders to ensure that hiccups facing the efficient operations of the Standard Gauge Railway freight service are identified and dealt with.
''We do not want to be draconian in our approach but if need be, we shall. There are many ways to do this,'' the CS said.
This follows a recent directive by the government to importers to nominate a fraction of import cargo to the Inland Container Depot in Embakasi, Nairobi, using the SGR freight services.
He was officiating at the Mombasa Port Stakeholders 2nd Think Tank Forum and annual review of the Port Community Charter.
The directive has sparked anxiety in the logistics sector with some business people arguing that the government was forcing importers to use the new train services in order to recoup the cost of building the SGR.
Critics also claim the concessionary tariffs for use of the ICD and SGR freight services will destroy private cargo stations in Mombasa and other logistics firms on the Northern Corridor.
Supporters of the new policy say it will improve efficiency and bring down cost of business through Mombasa port.
There are reports that the SGR freight services are not running as smoothly as planned amid talk that there are no enough wagons to transport the estimated 2,000 containers offloaded at the port daily.
Reports indicate the SGR can only transport 300 containers at its most optimum but yesterday the CS said that by June the SGR freight service will manage six trains per day.
''The government is committed to have a seamless freight train operation serving not only the Kenyan population but the entire region and as such everything from loading cargo to offloading at the Inland Container Depot (at Embakasi is above board,'' Macharia said in Mombasa Thursday.
He said if all logistical issues are sorted out, SGR freight operations would be much faster and many business people would use the SGR freight service.
The Mombasa Port Community Charter brings together 22 agencies that have signed a binding agreement to improve efficiency at the Port of Mombasa.
They include the Kenya Revenue Authority (KRA), Kenya Maritime Authority (KMA), Kenya National Police Service, Kenya Private Sector Alliance (KEPSA), and Shippers Council of East Africa among others.
One of the major targets of the agreement is to completely eliminate cargo delays at the Port of Mombasa by 2016.
Macharia said there was need to move with changing times and that it would not be business as usual for cartels keen on maintaining the status quo in the cargo handling business.
He said there was ample business for everyone including truckers.
''We have 28 million tonnes of cargo that is to be hauled out of the Port of Mombasa and SGR can handle 10 million with another 10 million taken up by truckers. There is enough for everyone,'' Macharia said.