Traders protest demolition of Jogoo Rd stalls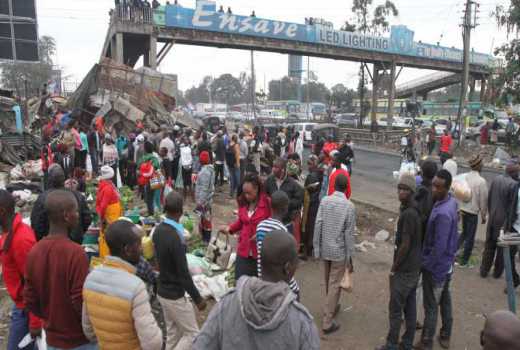 A dispute over the ownership of a parcel of land along Jogoo Road ended in tears and losses for traders at Burma market who woke up to find their stalls demolished.
Property of unspecified value was destroyed in the early hours of yesterday by people believed to have been sent by businessmen who are laying claim to the land where the traders have operated for years.
The affected traders lit bonfires on the road yesterday morning, causing a huge traffic snarl-up and forcing police to intervene.
By evening, tension was still high as it remained unknown who wanted the land, which also serves as an entry to Gikomba market.
Paul Ng'ang'a, who has operated a shop in the area for the last 20 years, said the demolition of his shop was the last straw in a series of events that have disrupted his business over the past few months.
"This shop is everything to me. It is what has paid my rent and educated my children. It is my whole life," he said standing next to the remains of his wooden stall scattered on the ground.
"I had sunk all my money into this shop. I had goods worth more than Sh200,000," he said.
Biggest losses
The biggest losses were incurred by chicken traders.
The area is well known for chicken sales and traders leave their birds at the market when they go home in the evening. All the chickens were stolen.
Ben Maasai, a watchman at a garage at City Stadium across the road and who claimed he witnessed the incident, said the goons came in small vehicles accompanied by a lorry and bulldozer.
"They came with around 40 young men, who raided and looted the stalls," he said.
It was a second time unlucky for the traders, whose shops were looted just three months ago by National Super Alliance supporters escorting Opposition leader Raila Odinga from the Jomo Kenyatta International Airport last November. Raila had just arrived in the country from the US.
The traders, who barricaded Jogoo Road as they protested yesterday, said they were not opposed to the demolitions if they were necessary, but they should have been notified in advance.
Governor Mike Sonko denied claims that the demolitions were conducted by the county government.
According to him, a group of people interested in the land was responsible.
"That land has been under dispute for a while. We are investigating to find out who was behind the demolitions," he said.