Greedy vendors, hawkers using hydrogen peroxide to preserve milk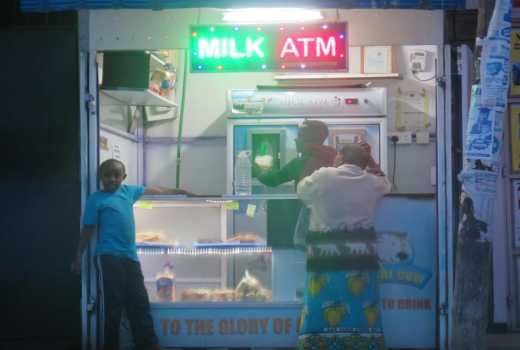 There is high chance that you could be unknowingly consuming milk laced with lethal chemicals.
Vendors and hawkers have been caught using hydrogen peroxide and formalin to prolong the shelf life of milk.
Just last week, Antony Karimi, a hawker, was jailed for two years after he was found in possession of milk laced with hydrogen peroxide. The milk was destined for Nairobi.
He was arrested along the Sagana-Kenol road with 500 litres which was tested and confirmed to contain the chemical.
ELEVEN CHARGED
In March 2016, 11 people were charged in a Limuru court with transporting milk from Kinale and parts of Kinangop, also laced with hydrogen peroxide, a bleaching agent.
An intensified crackdown by authorities in Eldoret town last week netted six people who were charged in court with poor handling of milk products.
In some parts of Nyandarua and Laikipia counties, illegal sale of milk by hawkers still poses a challenge to the authorities.
There have been reports of some hawkers using formalin to make the milk stay 'fresh' longer, against health regulations.
Investigations by The Standard revealed that Nyahururu and Ol Kalou towns are the most affected, with residents unsuspectingly consuming milk mixed with formalin.
Formalin is commonly used to preserve bodies in mortuaries.
Last year, the Kenya Dairy Board (KDB) arrested six people in Ol Kalou town who were suspected to be behind a cartel that was distributing contaminated milk.
According to police sources, they were sourcing the milk from Wanjohi and Miharati areas and later mixing it with formalin at Kiganjo before selling it to the residents of Ol Kalou town.
According to Nyandarua Central OCPD Wilson Kosgey, the police were working with Kenya Dairy Board officials to crack the whip on those conducting the illegal business.
"This will not be tolerated since formalin is a chemical that will ruin people's lives. We will do everything possible to make sure that this does not happen anymore," he said.
He noted that the Government had warned those conducting the milk business without relevant permits from the board that they would be prosecuted.
"The law is very clear on those doing this business. They should get certificates and clearance from the board, failing which we will arrest them," he said.
A source told The Standard that milk hawkers were colluding with some mortuary attendants to source the chemicals.
"They buy the chemicals from hospitals in Nyahururu and Ol Kalou at a low price and mix it with the milk. With this, the milk can even stay for a week without going bad," disclosed the source.
In Laikipia, the county government has put on notice those engaging in the illegal business.
The agriculture and livestock acting chief officer, David Thuo, said officials had been deployed in various towns to make sure the illegal business does not thrive.
"We will not put the lives of our people at risk just because of someone's greed. We will arrest anyone found engaging in this illegal business that had started to thrive," he said.
Dr Thuo called on residents to report people engaging in the illegal business, including government officials.
In Rift Valley, adulteration of milk with water and use of plastic containers to ferry the commodity continues to pose danger to consumers.
The KDB Eldoret branch manager, Samson Limo, noted that with the onset of the dry spell, unscrupulous milk suppliers mix water with milk to increase quantities and make money from the shortage.
"In this region, our main concern is adulteration with water and use of plastic containers. We have not witnessed any form of chemical contamination," said the manager.
Mr Limo added that the trend was common in Uasin Gishu, Nandi, and Elgeyo Marakwet, pointing out that there had not been serious cases such as use of chemicals or flour to tamper with the quality of milk products.
He said officials had intensified a crackdown on milk hawkers and arrested six people last week, who have since been charged in court for poor handling of the products.
Three were arrested in Eldoret town while the others were nabbed in Kapsabet town, Nandi County, while hawking milk. Hawking of milk is prohibited.
"To ensure safety of the milk the consumer gets, we conduct regular inspect of the quality of milk in transit. We conduct rapid tests besides requesting milk handlers to produce medical certification," said Limo.
He said officials also conduct quarterly inspection of milk distributors, including milk dispensers, to ensure that pasteurisation is conducted.
He noted that most hawkers use plastic jerricans, which were designed for transporting oil products and not milk. He said the plastic containers could not be cleaned properly and could, apart from contamination, also risk having pieces of plastic mix with milk.
PLASTIC JERRICANS
Limo warned that products exposed to such risks are confiscated because their safety was not guaranteed.
In West Pokot, the county executive committee (CEC) member for livestock, Geoffrey Lipale, said the administration was preparing to pass a law to help control milk handling and hawking to ensure hygiene.
While confirming that there have been cases of milk getting adulterated by unscrupulous traders, the county government's regulatory body maintained that such cases were isolated.
The Kenya Dairy Board is clear, however, that the Government has not certified any preservative to be used in prolonging the shelf life of milk. KDB, which is responsible for protecting consumers from poor quality, unsafe, and contaminated milk and milk products, said the product should only be preserved through cooling, processing, and value addition.
CONTAMINATED MILK
KDB Managing Director Margaret Kibogy said use of preservatives in milk was prohibited.
"Such cases are purely driven by greed for profit with total disregard for public health," she said.
Kibogy added that the board was aware of such incidents, which she insisted were isolated because the board carries out routine and scheduled inspection on marketed milk and tests for quality.
"In isolated incidents, the board has come across cases of people using preservatives in milk. Such cases have been prosecuted in the courts and the penalties are usually punitive to deter offenders," Kibogy said.