Jackson Kibor's sharp spikes on car raise eyebrows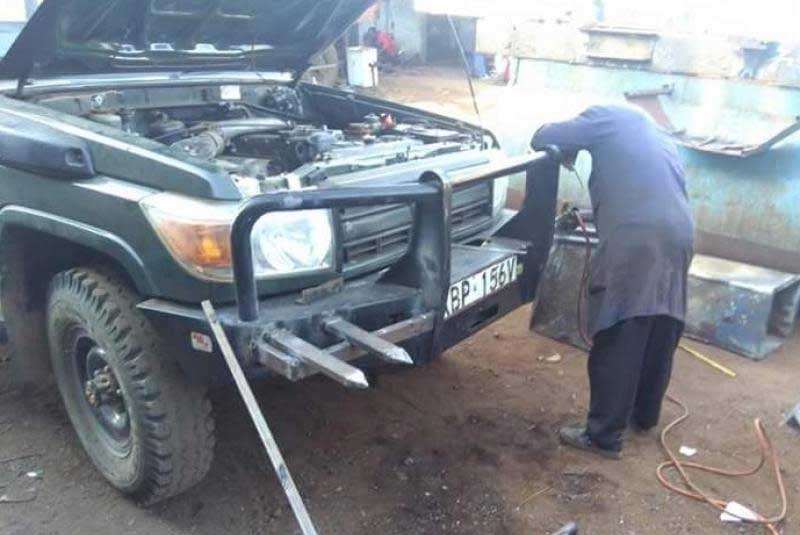 Age has not slowed down controversial North Rift farmer Jackson Kibor as he continues to amuse and bemuse the public.
While his agemates might be seated under mango trees in rocking chairs listening to their favourite radio station, Mr Kibor is still running around Eldoret town perhaps nostalgic of the days that he used to be the law and the law was him.
Tired of being bullied by invaders on his vast farm, he mounted four foot-long sharp metallic spikes on the bull bars of his favourite off road vehicle, ready to take on trespassers.?
The 83-year-old Kibor defended his action saying this was aimed at keeping at bay those who want to reap where they did not sow.
"What is the problem with me putting the bars? Nobody will arrest me as many would want to believe because I am doing this as a precautionary measure," Kibor said.
"The spikes are used to scare away those who have been causing me sleepless nights. Right now, I am old I cannot run after them."
The elderly man says he has been left helpless after his firearm was confiscated by the police following gun drama with his sons.
He believes the vehicle fitted with spikes will be the perfect weapon to take on his tormentors. Kibor fears that unscrupulous individuals might be ploughing his land in the dark.
"This is their medicine," he said. "I will only drive my car to the shamba and not on the highway as many people want to think."
The police have however vowed not to let Kibor drive his metallic beast. Area police boss says a team of officers have been dispatched to the old man's farm to dismantle the spikes.
"Such an act is not allowed and when I was informed of his action, I informed my officers to visit him and remove the spikes," Eldoret West OCPD Samuel Mutunga says.
Uasin Gishu County Commissioner Abdi Hassan insists that such modification on vehicles require a green light from National Transport and Safety Authority.
He says Kibor should make an official complaint to the nearest police station if his life is in danger instead of taking the law in to his own hands.
"He should seek our guidance and if indeed his firearm was taken, he should make an application based on his security status. We are always there for every citizen for protection and putting metals on bull bars is not ideal," he says.
Kibor made headlines when the court granted his wish to divorce his wife of 52 years.
In August, the once undisputed king of the Rift was so angry at Eldoret County employees who had clamped his car that he walked into the nearest hardware store and emerged with a brand new hacksaw. Moments later, the county clamp lay limp on the tarmac, as Kibor drove off in his vehicle.
"I am a senior citizen who served this country in different capacities and the county needs to waive the parking fees for retired councillors. Last time they clamped this car and I went there and requested them to stop. It is insensitive to clamp a Sh12 million car," Kibor said at the time.
The vehicle was clamped after he refused to part with Sh100 parking fee.