High performance computing forum launched at USIU-Africa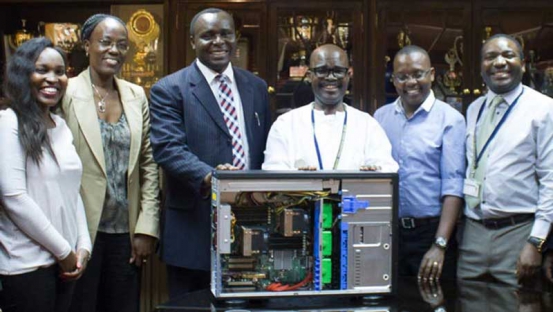 USIU–Africa welcomed over 200 participants for the High Performance Computing (HPC) For Research & Innovation Forum.
The forum organized by USIU–Africa, Intel, Carnegie African Diaspora Fellowship Program and United Nation Environmental Program seeks to harness the most of advanced High Performance Computing in various sectors in industry.
Participants include distinguished professors, government officials and industry leaders who will share insights on how HPCs can deliver Africa gains through research and innovation.
This is as the event will host Cabinet Secretary, Ministry of Information, Communication and Technology Hon. Joseph Mucheru, Dr. Manu Chandaria (USIU-Africa Chancellor) and Professor Paul Zeleza (USIU-Africa Vice Chancellor) who will give key addresses.
"USIU-Africa has robust STEM programs such as Applied Computer Technology, Information Systems and Technology and our new undergraduate program in Epidemiology and Biostatics, which is a first of its kind in Africa, that are developed, taught and applied to solve existing and emerging social, environmental, political, business and economic challenges facing Kenya, other developing nations and the world at large." says Professor Paul Zeleza.
The forum gives a platform for delegates and participants to understand and visualize the ecosystem that high performance computing can deliver in these complex and diverse times.
High Performance Computing (HPC) is the concentration of computing resources to achieve higher rates of output in a manner that is fast, consistent and reliable and at scale. HPCs work on computational problems that are either too large for standard computers or would otherwise take too long to solve.
HPCs achieve these high output rates by use of parallel processing technologies that support the optimal use of clustered computing resources presenting as a result, enhanced performance, scalability, and overall processing speed.
USIU-Africa Chancellor, Dr. Manu Chandaria, maintains "HPCs when employed in Africa through the partnership of governments, private and public entities will see us use big data for research and innovation that will reduce disease epidemics, food crisis, growth in industries and in overall improve the continent's GDP."
The computing power of HPCs is a perfect match for the discovery of innovative solutions, as well as developing cost-cutting initiatives and reducing time to market for products and services.
Cabinet Secretary, ICT Joe Mucheru in his speech stated that "the government is extremely committed in transforming Kenya to a digital economy that will aid improve food security, health, increase jobs and this can be done once we demystify the capabilities of HPC to all stakeholders."
The CS reiterated President Uhuru Kenyatta had expressed concern that Kenya should not allow the vagaries of weather to hold it hostage as the demand for food is expected to double by 2050 placing tremendous pressure on current agricultural practices and water security.
HPCs enables the prediction of weather to a high degree of accuracy, aiding in the making of more informed long-term food security policies, environmental policies and interventions as well as security policies.
Data processed by HPCs can help develop drought-resistant crop breeds, help better understand climate change creating numerous opportunities to increase food production without compromising on the limited water resources.
HPCs also enables economic modelling by processing big and open data providing insights that directly contribute to evidence-based policy making, much needed on the continent.
Advancements such as gene sequencing, molecular research and bio-physical simulations can all support development of effective medicine and vaccines for diseases like Malaria and HIV currently ravaging Africa.
HPCs can help researchers explore Africa's abundance of natural remedies. Epidemic modelling can predict disease spread so that governments and healthcare providers can make appropriate interventions.
The world is now a highly connected global village, having local high-performance computing capacity means Africa's researchers and scientists can better contribute to the global research agenda as well as provide tools for wider collaboration with research colleagues globally.