Youths making charcoal from Sugarcane bagasse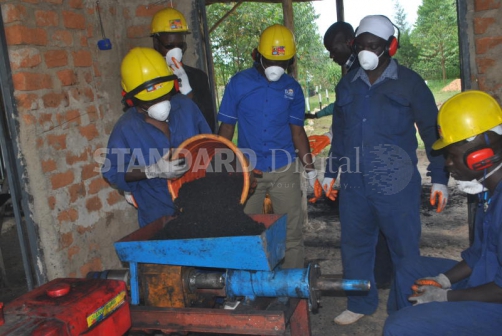 Thousands of tonnes of sugarcane waste commonly known as bagasse remain underutilised after cane has been crushed.
However, one company in Kakamega town owned by youths has now commercialised the use of bagasse to produce renewable energy. They source bagasse from West Kenya and Butali companies.
Eco2librium Company has been recycling bagasse for the past two years to produce briquettes. Eco2librium comprises 30 youths who currently produce over 800 bags of briquettes per month.
In an interview with The Standard on Monday at Ivakale village where the factory is located, Eco2librium Company Director Christopher Amutabi said they were planning to set up a multi-million-shilling factory by March 2017 that would see them produce 30,000 tonnes of briquettes a month.
Greenhouse gas
Mr Amutabi said charcoal from bagasse produces both less ash and greenhouse gas emission, adding the residue could be used as fertiliser.
"With the rising oil prices, where one barrel of crude oil is over 100 US dollars and the need to have renewable energy made from materials that are locally available that has little pollution to the environment, we came up with this project as an alternative source of fuel to the locals to substitute wood charcoal," he said.
Amutabi said they were given wet bagasse from the two factories, noting it takes 2-3 weeks to dry when exposed to direct sunlight in a bid to reduce moisture content by 60 per cent.
He said the dry bagasse is then burnt in a kiln for 12 hours with limited oxygen supply to convert it from white to a black substance commonly known as carbonised bagasse.
"We add soil, molasses and water to the carbonised bagasse for easy binding. After the bagasse is properly carbonised, we now start making briquettes using the charcoal powder briquette machine," he said.
He said molasses speeds up the lighting process. He said the wet briquettes are dried in a shed for eight hours to make them compact, before exposing them to direct sunlight for drying.
Eco2librium briquette coordinator Douglas Wanyonyi said charcoal from bagasse was friendly to the environment and cost-effective.