Britam acquires Sh9 billion expansion revenue after sale of 24.6 per cent stake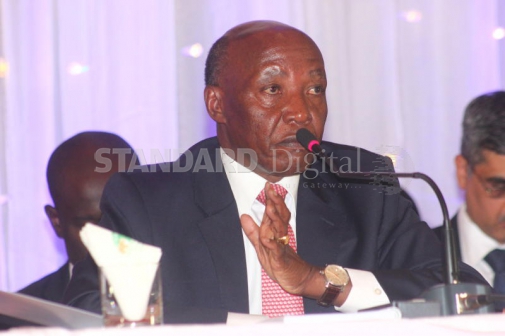 Insurance group Britam has succeeded to raise Sh9 billion for expansion after selling 24.67 per cent of its stake.
Shareholders Friday gave the nod to have Britam sell 360,888,281 million new ordinary shares at a subscription price of Sh15.85 per share to private equity firm AfricInvest.
The sale, through subscription of the shares, increased the shareholders' fund by Sh5.7 billion for a 14.3 per cent stake. The deal is awaiting approval from the Capital Markets Authority and is expected to be completed in the first quarter of 2018.
The acquisition of the stake is the second this year by the company following a deal with World Bank's International Finance Corporation (IFC) in March that now holds 224.1 million shares representing 10.37 per cent. The insurance firm raised Sh3.5 billion in the deal.
Britam Holdings Chair Andrew Hollas said the two deals were informed by the company's decision to raise equity to sustain its growth strategy.
This latest deal now makes AfricInvest the second largest shareholder in Britam Holdings after Equity Holdings Limited.
According to the terms of the sale, Hollas explained, AfricInvest will be entitled to one position in the Britam Holdings board.
The private equity firm will also be entitled to dividends -- to be paid mid next-year-for the year ending December 2017 if the transaction is completed on or before November 30.
"If the subscription is completed after November 30, AfricInvest will only be entitled to dividend that is declared in excess of Sh0.40 per share in respect to the year ended December 2017," read an overview of the agreement.
Group Managing Director Benson Wairegi told the shareholders who questioned the dividend payment arguing that the amount AfricInvest have injected will not have yielded any returns by then, saying the scenario is 'not unusual.'
"It is the same case everywhere once one buys shares only that this is a big transaction, so we had to put it in writing. But yes, they will be entitled to dividends if we declare any," he said during a General Meeting of the shareholders.
Wairegi said since they have raised the required equity of Sh9 billion for their 2016-2020 strategic plan, there will be no request for shareholders' to approve raising of more funds.
Footprint
He said the money will be used to consolidate their businesses which range from insurance to property management in the seven countries of operation among them Mozambique, Uganda and Tanzania.
That, he said, does not necessarily mean there will be opening or acquiring stakes in more countries.
"But if an opportunity arises, we will consider it. What we may be doing is introduce new businesses to countries where we already have footprint like the case in Uganda where we exist as an insurance company but started an asset management company in July," he said.
Wairegi said though traditionally investment by a private equity firm ranges between five and seven years, it will be up to AfricInvest to determine how long they will be sticking around.
KRA now snoops into taxpayers' bank accounts
The revenue authority wants to use bank data to analyse unreported activities of taxpayers including other sources of income, to detect tax fraud, and to score and rank risk profiles