Balala elected to head top UN tourism body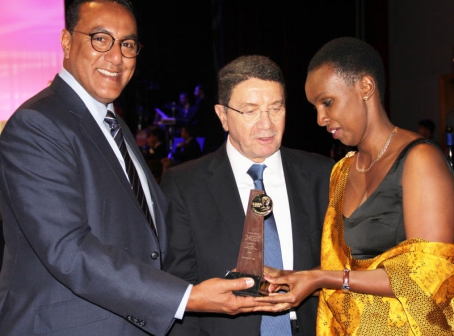 Tourism Cabinet Secretary Najib Balala has been elected chairman of the United Nations World Tourism Organisation (UNWTO) Africa Commission. Balala takes over from Zimbabwe's Tourism Minister Walter Mzembi for the 2017-2019 term.
His two deputies will come from South Africa and the Gambia.
The CS was confirmed as the new chair during the 22nd General Assembly of the UNTWO conference in Chengdu, China.
In an interview with Weekend Business, Balala said he was humbled by the election and pledged to unify the continent on tourism issues.
"While the election brings good news for Kenya, it is a plus for the African continent which has enormous potential as a preferred long haul tourist destination of choice," Balala said.
He noted that Africa receives 34 million visitors annually, stating that he will champion for an increase in tourism arrivals.
"I will be aggressive in unifying African tourism," Balala said.
He assumes office with clear agenda including the establishment of the African Tourism Organisation by the African Union.
"This initiative shall among others help drive African tourism, come up with African driven initiatives, develop and grow brand Africa so as to get more tourists to the continent," Balala said.
Leap frog
The Cabinet Secretary promised to champion for the development of a new safety and security narrative for Africa by leveraging on innovation and technology to leapfrog development of the continent's tourism.
Other priority areas noted by the CS include building synergies amongst serving African tourism ministers to make strong voice for tourism and lobbying for Africa globally.
Mr Balala also promised to deepen and implement continental framework for sustainable tourism. The move is aimed at optimising current growth while securing the sector's future.
The Kenya Tourism Federation through its national chairman Mohamed Hersi lauded the cabinet secretary for the achievement while Gelian Hotel chairman Alfonse Kioko said Balala's appointment is a relief for Kenyan tourism which is coming out of a slump.
The Kenya Association of Hotelkeepers and Caterers Tsavo and Amboseli branch chairman Willie Mwadillo, while welcoming the appointment, called on the CS to support new tourism products in Kenya and across the continent.
Global recognition
Panari Group of Hotels Managing Director Patrick Marekia said the nomination and election of CS Balala demonstrates global recognition of Kenya as a top tourist destination.
He said Balala has always supported the industry and his elevation is a worthy recognition.
Kenya Coast Tourist Association (KCTA) chairman, Mr Victor Shitakah termed Balala's election as excellent news for Kenya.