How cartels oversee parking slots in Nairobi city centre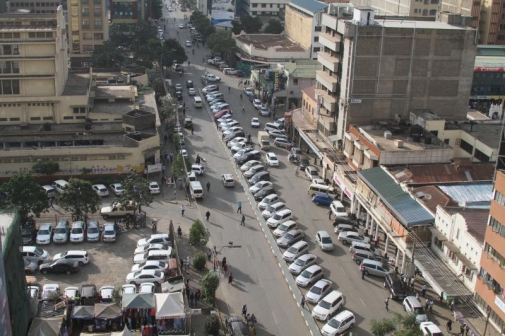 Street boys are minting money by acting as parking attendants long after official working hours. The Metropolitan has established that the boys even collect parking fees on behalf of county government employees with whom they share the loot.
The street boys have 'zoned' the city and taken over specific streets and parking slots, which they 'lease' out to motorists at negotiable rates.
Depending on the time of the day and the desperation of the parking boy, a motorist can be charged anything between Sh20 and Sh200.
This is highly subsided considering that the official rate charged by the county government is Sh300 per day.
Through their collaboration with the council attendants, they can stop a motorist's car from being clamped even if the owner has not paid for parking.
In some areas such as Muindi Mbingu and Market streets, a motorist unwilling to pay Sh300 to the county government parts with Sh200.
Those who insist on paying the county government still have to top up with Sh20.
Security charges
"They have unconventional ways of ensuring that you pay," confides Bantaleo Sungu. "A serial defaulter ultimately pays in kind. Twice, I have found my car with a flat tyre. I am sure the boys deflated it. Others have reported finding their cars vandalised."
The gang dominates the city centre at dawn, before the parking attendants arrive, and in the evening after they have left.
When these 'parking boys' see a car approaching at low speed, obviously looking for parking, they emerge onto the road to show you where and how to park.
If you have already paid the official city parking fees, they will demand Sh20 or more for "saving you the hassle" of looking for parking space. This fee will also secure your car from petty thieves.
One parking boy who gives his name as John says they provide an alternative to services that the government has failed to deliver.
John operates along Muindi Mbingu Street and 'reports to work' as early as 4am.
He claims their presence has improved security in the city.
"On a good day, I pocket between Sh700 and Sh1,000. But I have to share it with the city attendants to ensure that they do not clamp your car," he says.
"And cases of vandalism have really gone down since we came in."
New drivers
John says there was a time when motorists did not dare park in public slots and leave their cars unattended.
"If you did, you either found your side mirrors gone or your window broken and valuables stolen."
If you are a new motorist in town, they ask for a higher fee compared to 'regulars'. And John says the news drivers are very easy to spot.
"They appear undecided, doubtful of the safety of their cars, and ask how much we charge. The regulars already know the rates and would never ask how much the service costs," he says.