Banks take on M-Pesa with own money transfer service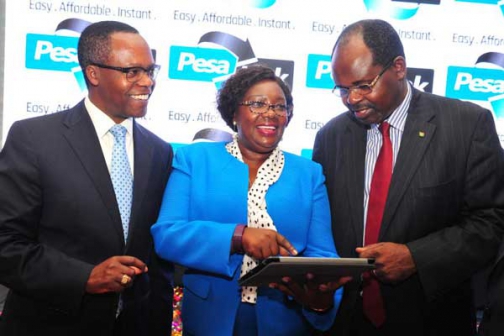 Banks have activated their inter-bank switch to enable customers transfer money from one bank account to another in real time.
In what is likely to hot up competition among mobile money service providers, Kenya Bankers Association (KBA) has secured approval from the regulator to allow inter-bank transactions ranging from as little as Sh10 to as much as Sh999,999 through the PesaLink platform.
The new service will be in direct competition with market leader Safaricom's M-Pesa service.
Introduction of the new platform carries the potential to tap into both low-end and high end customers as the bottom-line is to warm up to the hearts of the unbanked population with an offering that will facilitate small payments such as paying for groceries at the market, bus fare or a haircut.
KBA Chairman Habil Olaka said at a press briefing in Nairobi yesterday the new offering, a flagship product of Integrated Payment Services Limited (IPSL), which is a wholly-owned subsidiary of KBA, will save customers from the long and costly process of accessing money.
"KBA is rewriting the playbook that will define the shape of payment ecosystems. It will enable customers to make payments between banks in real time, around the clock without having to go through intermediaries," said Mr Olaka.
Customers have had to endure laborious and expensive processes of withdrawing money from their accounts into their mobile wallet and channeling it to the recipient's mobile wallet.
The bank channels that will be utilised in the cash transfers include ATMs, Internet banking, bank branches, bank agents and mobile banking (namely USSD and mobile apps).
While the initial phase will be open to customers with banks accounts, IPSL is mulling more development to open it to non-bank account holders who will rely on one-time password to transact.
In running the platform, IPSL will chargE an average basic service fee of Sh11 while individual banks will set competitive charges.
"What we assure is that the pricing will be more competitive compared to what we see in the market today as transaction fees," said IPSL Chief Executive Jeniffer Theuri.
Mr Olaka, meanwhile, said there is a deliberate decision at the switch level to waive the fees for the lower end consumers to align with final inclusion agenda.
So far, 12 banks have received the necessary approvals and went live on Wednesday evening while other players are in various stages of testing the system.
In about 30 days, KBA is optimistic that all banks will be on board.