Food prices soar as pockets run empty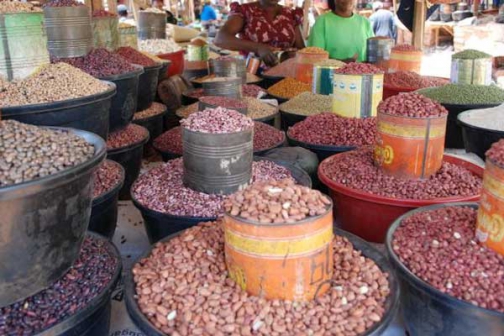 Millions of Kenyans are stuck in one of the worst economic crises after food prices suddenly shot up leaving many staring at starvation. Prices of maize flour, milk, tomatoes, cooking oil, onions and sukumawiki (kale) — the most basic foodstuff—have risen sharply in less than two months making life unbearable for ordinary consumers who toil just to put food on the table.
Kenya's staple food maize is the worst hit with a gorogoro (a two-kilogramme tin) of the cereal in most rural areas trading at between Sh100 and Sh130, up from between Sh70 and Sh80 during the festive month of December. At Kibuye Open Market in Kisumu, a gorogoro of maize is going for as high as Sh130, a price last seen in 2009 when the country experienced a similar crisis in the lakeside city.
In Kisii County, one of the areas that feeds food-deficient city of Kisumu, a gorogoro of maize is trading at an unprecedented Sh100 up from Sh75 in December 2016. What makes this worrying is that in many areas in Kisii, farmers have just harvested in January.
In the border town of Busia where some residents walk to a Ugandan cereal shop for cheap maize, a gorogoro of maize is going for Sh95 up from Sh90 just a month ago.
The drought has brought nothing but problems for the residents of Budalang'i, Busia County, who will now have to endure the ignominious ritual of receiving relief food, said the Cabinet Secretary for Agriculture Willy Bett. The CS noted that there are 300,000 people from non-ASALs (arid and semi-arid lands) areas that need relief food.
Other residents who have been forced to line up with begging bowls for a few gorogoros of maize to keep them going are from Nyatike in Migori. The Kenya National Bureau of Statistics (KNBS) data shows that a kilogramme of loose maize grain as the ones sold in gorogoro rose from Sh45 in December 2016 to Sh46 in January 2017. This works out to maize retailing at Sh92 last month.
In urban areas such as Nairobi, most supermarkets are selling a two-kilogramme packet of maize flour at Sh126—this is a shilling higher than a two-kilogramme of wheat flour which for long has been more costly than the latter. "Right now, wheat is cheaper than maize on the shelf," said a local miller who preferred not to be identified as he is not authorised to speak on behalf of the Cereal Millers Association (CMA).
For the first time, most households will be tempted to eat chapati instead of ugali. However, there are other costs for one to prepare Chapati such as cooking oil. Chapati has traditionally been reserved for such special occasions in poor households.
Millers are now living from hand to mouth, said the anonymous miller. He said it is not easy to build up stock once it is replenished. CMA is now buying quality maize from Western regions at a cost of Sh3,600 and Sh3,800.
A cheap meal of ugali and sukumawiki, which has kept millions of poor Kenyans going during the toughest of times, is hard to come by. In January, a kilogramme of the vegetable had risen from Sh45.7 in December 2016 to Sh48.74, according to KNBS.
But now, a handful of stalks of sukumawiki will leave households Sh20 poorer. This is inadequate for a typical Kenyan household of five members. Nancy, a resident of Kisumu, told Weekend Business that Sh10 would get her less than six stalks of sukumawiki.
Sugar lovers have endured the price burden since November 2016 when the country started experiencing shortages. A two kilogramme packet of sugar is retailing at Sh290, up from Sh250 in October 2016, and some supermarkets have even been rationing the commodity as consumers grapple with shortages.
Depressed harvests
Fresh packeted milk (half litre or 500mls) is retailing at Sh55 from Sh45 a month ago. The spike in prices of basic foodstuff has something to do with the debilitating effects of drought. Drought has reduced the supply of basic foods driving the price up, said Dr XN Iraki, a lecturer at the University of Nairobi. "For the poor, more money goes to foodstuff and less money is available for other needs like school fees," said Iraki.
President Uhuru Kenyatta has already declared drought a national disaster, calling on all stakeholders to double their efforts on the fight against this perennial plague. The short rains of October/November in most of the Horn of Africa was inadequate, resulting into depressed harvests in the entire region. Close to 2.7 million people from 23 counties in Kenya are in urgent need of food. Cattle have started dying as vegetation cover fades and water dries up from streams.
In Kenya, the year normally has two benchmarks — the short rains, in October and November, and the long rains, a great deluge lasting from March through May. But there is an echo of the notorious 1984 drought immortalised by the rather grim photos of emaciated children stretching out their feeble hands for unavailable food.
Just as in the present case, the drought in 1984 began with the failure of the short rains in northern and north-eastern Kenya. Back then, only the central and western highlands received enough rain to produce maize. In the following year, the long rains almost completely failed, except in the narrow strip along the coast and in the western highlands.
According to the Intergovernmental Authority on Development (IGAD), even the March/April rains might fail, aggravating the already worse food crisis. USAID's Famine Early Warning Systems Network (FEWS NET) says in a special report published in January that rainfall between October and December 2016 deviated from the 1981 to 2010 average over the Horn of Africa.
Ravaged by drought
"Most parts of the region received poor rainfall with limiting crop production and pastoral resource regeneration," said FEWS NET, a provider of early warning and analysis on food insecurity. The report went on to cite the GEOGLAM Early Warning Crop Monitor (EWCM) which classified the end of season cropping conditions as "Failure" in eastern Ethiopia, southern and central Somalia, and coastal Kenya.
"Crop conditions were classified as "poor" in northern Somalia, central Ethiopia, and the rest of Kenya. Cropping conditions were also "poor" for the secondary seasons in Uganda, Tanzania, and eastern Burundi," said the report adding that water points in Kenya, Ethiopia, and Somalia were at "alert" or "near-dry" levels.
These events have combined to ensure that basic foodstuff do not reach needy Kenyans. Already, experts have warned that the unexpected rise in prices of food, especially maize, signals a situation where the country is struggling to feed itself, or is food insecure.
"Once you see the food prices going up, that is an indication that all is not good. The way things are, I don't think we are [food] secure. If you look at the way food prices are rising particularly maize, you just wonder," said Dr Dennis Charles Otieno, an agricultural economist at Egerton University-based agricultural think-tank Tegemeo Institute of Agricultural Policy and Development.
The region, which has always extended us a helping hand in these times of need, is in no position to help us. Almost the entire region, including Uganda and Tanzania from where we get maize to plug our deficit, has been ravaged by drought and food supply dwindled.
Kenya might be forced to import maize from Mexico, US or Ukraine. However, importation of maize has always touched off a raw nerve, with fears that cartels will take this opportunity to bring in illegal maize.
But the importation of maize would also be coming at a time when the shilling is under pressure from a strengthening dollar. The last thing the country needs now is to raid its already depleted foreign reserves to import food that is ordinarily grown locally. However, the custodian of the country's foreign currency reserve, Central Bank of Kenya (CBK), believes they are prepared in case the country needs to import food.
Nonetheless, CBK is concerned about food inflation, or the general rise in food prices. CBK Governor Dr Patrick Njoroge noted that there was a need for the country to seriously look at the issue of food inflation.
Njoroge noted that tomatoes, sugar, oranges, cabbages and sukumawiki contributed something like 1.5 per cent in the 6.7 inflation in the month of December. "Clearly, we need to look a little more on food inflation which we know is driven by other factors altogether," said Njoroge.
He explained that there was concern about dry weather conditions in the country and that the price of such vegetables as tomatoes, cabbages and sukumawiki will probably not come down in the next few months. "On the contrary it might continuously push inflation towards the higher end of the band," said Njoroge. Kenya's inflation band is 5 per cent, +/-2 percent.
Provide the funding
Mr Bett is hoping for divine intervention. "We really have to pray that the rains come sooner than later," said Bett. However, Bett insisted that the country is food secure; that it is not food but water that is lacking. Lack of water, he explained, has resulted in the death of animals.
"The effect on animals is getting to a level which is not comfortable," noted Bett. "In some areas the animals are still strong, some areas the animals are very weak and mortalities have started to happen," he added. "We have the food, the food is not the issue. The issue is buying the food and taking it to the affected people. It is Treasury to provide the funding, it (food) is bought and then taken," said Bett.