Forget the Chinese and Japanese, the new sheriff in town is French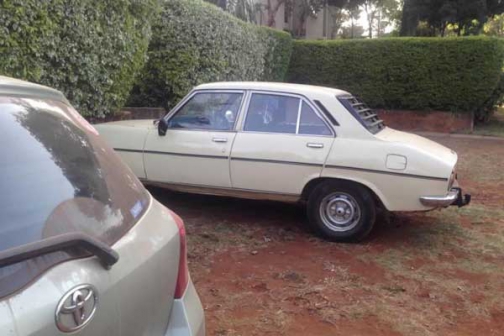 About two decades ago, a 'beauty contest' between Toyota and Peugeot appeared in one of the local dailies. Toyota was introducing a new model, I think it was AE91.
They showed a photo of an old Peugeot 504 saloon and declared that unlike its rival they keep improving their cars. The next day, Peugeot put up an advert with the photo of a 504 model and put the debate to rest, "If we got it right the first time, why keep changing."
Toyota seems to have won the contest and Peugeot left the Kenyan market. But they had tried to match Toyota by introducing new models like 2 and 6 series. I did note that Peugeot was also missing in the US market. Now Peugeot is back in Kenya, much changed. It acquired 89.95 per cent of Citroen in 1976 and created the group PSA Peugeot Citroen. In 2016, PSA Peugeot Citroen rebranded and became PSA Groupe.
In 2010, Peugeot celebrated 200 years since its founding by Jean-Pierre and Jean-Frédéric Peugeot. It is one of the few firms where the founders' descendants are still shareholders and hold managerial positions, says PSA Groupe website. Others include Ford and BMW. The return of Peugeot was announced at State House, Nairobi. Even before this announcement, Peugeot cars have been on the road, mostly with NTSA.
Years ago, Mahindra, an Indian firm tried the French approach by giving cars to the Kenya police. It is not clear what happened after, but few Mahindras are on the road. Is Peugeot association with NTSA likely to endear it to Kenyans or not? Peugeot will join other assemblers which include Associated Vehicle Assemblers (AVA), Kenya Vehicle Manufacturers (KVM) and General Motors East Africa.
The Frenchmen could also be trying the Classic FM model, appealing to our past to make success in the present. By bringing back music that was booming when we were teenagers, this radio station has been a hit. Would appealing to the past make Peugeot a rolling success? Time will tell.
How will this French firm compete with American, Chinese, Korean, and Japanese cars in the Kenyan market? While American models are known through movies and TV stations like CNN, not much is known about French in Kenya, except may be perfumes, wines and French revolution. A few schools teach French in Kenya, but English is the preferred language of business and internet.
Enough on the Peugeot. The French have been making economic inroads into Kenya just like the Chinese and Americans. Their entry is not as much publicized. Apart from PSA Groupe, other French firms operating in Kenya include Bollore (logistics & Transportation), Lafarge in cement, Total in oil, Sanofi Aventis (pharmaceuticals), Alcaltel-Lucent, Camusat, Sagem Communication, Thalès (all electronics), L'Oréal (perfumes), Pernod-Ricard (beverages) and Alstom (transportation). Renault car models have a showroom around Westlands; like Peugeot, they are returning.
Unknown to many, French have a stake in KQ, because Air France merged with KLM in 2003. KLM owns 26.73 per cent of KQ. A more recent entry is Carrefour, a supermarket chain already at IHub, Karen and opening at Two Rivers. Danone SA bought 40 per cent of Brookside dairies in 2014. And Telkom was once co-owned by French firm Orange but they pulled out. In 2014, French exports to Kenya reached 148 million euros (Sh16.3 billion) while our imports from Kenya totalled €74 million euros (Sh8.15 billion). France enjoyed a trade balance surplus; says French Embassy.
Why are French returning to Kenya? Is that a sign of confidence in the Kenyan economy? The economic landscape has changed significantly since some firms left. Liberalisation of the Kenyan economy in the 1990s, made it easier for foreign investors to enter the Kenyan market. In addition, investors see prospects of an oil economy and larger market espoused by East African community. A growing middle class and well educated populace are other attractions.
The Jubilee regime seems determined to do business with as many nations of the world as possible. Is that diversification or getting the best out of everyone? Are they trying to ensure that no one country has too firm economic grip on Kenya? The other day I found wine from Moldova in the supermarket.
Observers opine that Kenyan market is undefended and anyone can get in. Compare that with Trump's threats of tariffs and walls. The dispersal of power in the 2010 constitution was a boom for investors it seems. The new constitution devolved power to the counties; now very generous with incentives to investors. Counties are also great consumers, new economic centres.
Though French and Chinese seem to prefer government to government projects, the new constitutional dispensation gives investors more lee way into the Kenyan economy. If well managed, the competition for investors among the counties can raise the standards of infrastructure and even governance.
The Consumer tastes have changed driven by availability of information through internet and travelling. Noted that buses adorned with banana leaves are rare at the airports? Everyone travels... Kenyans are more willing to experiment with different tastes, whether cars, wines and other commodities. Some suggest even with cross racial marriages.
The French haute couture is not well known in Kenya. The American dream in Kenya has no French equivalent. Language could be a factor. But is more than that. Why have South Africans found entry into the Kenyan market so hard, yet they speak English, the language Kenyans love at the expense of Swahili and local tongues. Kenyan market is more advanced than most investors want to admit.
One of the unanswered questions is what model French will use to get a foothold in the Kenyan market. Will they use Japanese model, purely commercial without much interest in cultural affairs? Or will they use Chinese and English model where commercial interests are laced with cultural interests.
The English brought the church, while Chinese brought the Confucius institutes. Americans have their movies and 24 hour TV. And our Nigerian brothers have Afro-Cinema. Some have argued that Frenchmen over the years held their West African former colonies with such a tight grip that Kenya and former British colonies were not a priority.
Could loss of Rwanda which even joined commonwealth be driving French to English speaking countries like Kenya? Or is it a diversification strategy, a hedge against political upheavals like the ones recently experienced in Ivory Coast and Mali?
What is not in doubt is that Kenya has become an economic play ground for the West, East, North and South. The big question is who will benefit from this influx. Will the hoi polloi have a share of it? Or is it all about the high table?
—The writer is senior lecturer, University of Nairobi. [email protected]