CBK threatens bank CEOs with jail if they don't cut lending rates in 14 days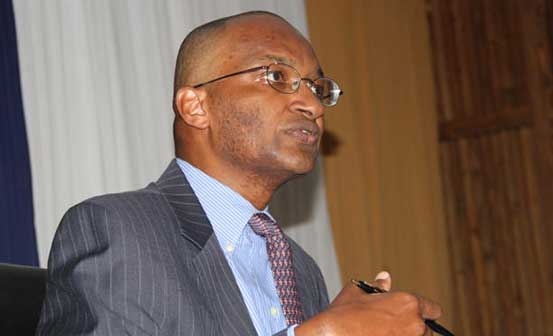 It is official. Commercial banks and mortgage finance companies have until September 14, 2016 to cut lending rates.
In a circular to all chief executives of commercial banks and mortgage finance companies, CBK Governor Dr Patrick Njoroge put the commencement date of the Banking (Amendment) Act 2016 on September 14, 2016 putting to rest excuses by banks not to comply with the new law.
Njoroge warns in the circular dated August 31, 2016 that lenders that charge borrowers more than the stipulated interest rates will be fined Sh1 million or their bank chief executives imprisoned for one year.
"A bank or financial institution which contravenes the provisions of subsection (2) commits an offence and shall, on conviction, be liable to a fine of not less than one million shillings, or in default, the CEO of the bank or financial institution shall be liable to imprisonment for a term not less than one year," said Njoroge in the notice.
He said the law requires lenders to disclose all the charges and terms relating to the loan before entering into agreement with borrower.
The new Banking Act caps the maximum interest rate chargeable for a credit facility at no more than four percent of the base rate set and published by the Central Bank of Kenya. Also, a lender is required to set the minimum interest rate granted on a deposit held in interest earning to at least 70 per cent of the base rate set by CBK.
Existing loans
But it is the announcement early Wednesday morning by CfC Stanbic Bank that it would cut lending rates on its loans to 14.5 per cent that sent commercial banks into panic in what has seen lenders soften their hard stance.
Before the announcement, other lenders were reluctant to pass on the benefit to borrowers who had taken loans in advance, hiding behind their lobby group's position that the law was unclear.
Co-operative Bank of Kenya, which was the first to test the waters last week, first announced that it would only apply the new rates on new loans awaiting direction from the industry regulator.
Co-op Bank then came back a second time Thursday and 'clarified' that it will also effect the same rates on existing loans. "I write further to my memo dated August 26, 2016 regarding the Government's approval of the Banking (Amendment) Act...I further clarify that in order to give our existing customers the full benefit of the new law, this interest rate pricing guideline will also apply to all our existing credit facilities," said Co-op Bank CEO Gideon Muriuki in a memo dated August 31, 2016 to the bank's branch managers and lending units.
However, the gazettement of the new law by Central Bank put to rest banks' excuses. Lenders have been waiting for the CBK to issue directive on the applicable rate, and clear the air over what benchmark to use between the Central Bank Rate (CBR), and the contentious Kenya Banks' Reference Rate (KBRR).
But after CfC's move and CBK's circular to banks, lenders have now been forced to follow suit or risk losing their customers to those who are first to market. This has seen banks adopt the Central Bank Rate as the base rate, to fix their loans now at 14.5 per cent. The Kenya Commercial Bank (KCB), which is the largest bank by assets swiftly followed and announced similar terms.
The Kenya Bankers Association (KBA), the industry lobby, shortly afterwards announced after a crisis meeting that all its members had now agreed to reprice all their loans to a maximum of 14.5 per cent to be in line with the spirit of the new law.
"...the KBA wishes to announce that its members have agreed to prospectively reprice existing loans, which will see existing customers enjoy the benefits of the new law once it is operationalised. Each KBA member bank will therefore notify their customers on the process and new terms as the industry engages with CBK on the implementation," KBA said in a statement.
The new law means that banks will now have to rely on volumes to achieve the same or better revenues. "This is the time to sell. They are not too bad rates," KCB Chief Executive Officer Joshua Oigara said at a media briefing Thursday.
Oigara described the latest events as 'painful' for the industry but maintained that the lender will work within the existing law to give decent returns to its shareholders.
KCB has asked its customers to visit its banking halls to review the loan terms and sign new contracts that are in line with the amendment to the Banking Act 2016.
Customers who took loans before the new law now have three options. They can renegotiate on lower monthly repayments and keep the same duration, keep the same monthly repayments that mean a shorter repayment period or alternatively take up top ups and keep the same loan term and monthly repayments. KCB said it had already started receiving new inquiries from customers who want to take loans under the lower rates.
Whichever decision, they will emerge winners under the current laws that have upset the industry, squeezing their margins to 7 per cent from a high of 15 per cent. The new rates will also apply to mortgages but will not affect the mobile based products such as Mshwari and KCB-Mpesa, which are now treated as micro-finance products.
The new rates also mean that customers now will be turned away from banks if lenders feel that they are too risky to qualify for the new rates. Other banks that have made similar announcements include Guaranty Trust Bank (Kenya), Chase Bank, Standard Chartered Bank, National Bank of Kenya and Diamond Trust Bank. DTB said it will cut loan rates to 14.5 per cent as from September 1, 2016.
Spirit of the new law
Guaranty Trust Bank (Kenya) Managing Director for East Africa Ibukun Odegbaike said, "In complying with the spirit of the new law, we will be capping the interest rates on all existing and new loans at the proposed rate of 14.5 per cent. The changes will be implemented beginning September 2016."
Standard Chartered Bank said they are engaging clients directly on their existing banking facilities to align to the new interest rate regime.
"Standard Chartered Bank Kenya will adjust all new and existing loans in line with the amendment of the Banking Act which has recently been gazetted," said Lamin Manjang, Standard Chartered Bank, Kenya CEO.
IMF sending team to Mozambique to assess struggling economy
The International Monetary Fund (IMF) is sending a team to Mozambique at the end of September for an update on the southern African nation's struggling economy, including its progress in accounting for over $2 billion in irregular state loans.