Turkana oil transport trial begins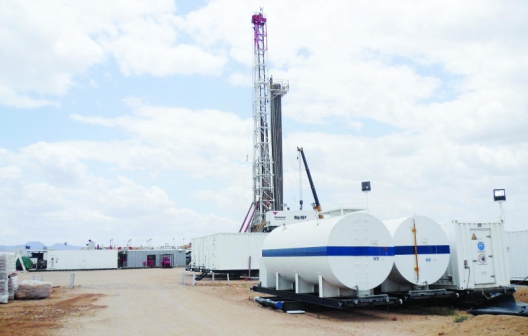 Kenya's first oil truck leaves Turkana, marking the beginning of transport trials as Kenya moves closer to becoming an oil-producing country.
Tullow Oil Company says it will transport crude oil by road for the very first time under the Early Oil Pilot Scheme (EOPS) from Lokichar in Turkana to Mombasa.
The oil will be transported on two trucks and this will later rise to 20 trucks after the upgrade of the road is completed.
"The company will have two trucks that will transport oil from Lokichar to Mombasa to check for logistics. Our aim is to test its reaction to different temperatures and to understand the amount of time it will take to get the oil to Mombasa," said Tullow's Communications Officer Dennis Okore.
Tullow said the trucking is a trial to check on the process and the logistics, but the real transportation of early oil will start next year.
"This is just a trial version to check on the pressure, temperatures, viscosity and how much the refinery will take," said Mr Okore.
He added that the development process will start next year after the Nadapal-Eldoret road is tarmacked.
"The road will be used by the trucks carrying oil to Eldoret. The oil will then be transported to Mombasa via train," Okore said.
Kenya changed its strategy for transporting oil after Uganda pulled out of an earlier plan to build a joint pipeline. Uganda instead chose to build its pipeline in partnership with Tanzania.
This left Kenya on its own to build its pipeline alone. But before the pipeline is completed, the country decided to start transporting its early oil by road. This is what has led to today's events.
Petroleum Principal Secretary Andrew Kamau told The Standard that the plan was to transport the crude oil from Turkana to Eldoret by road for onward train travel to Mombasa.
"This is not the first time this is happening in the world," Mr Kamau said in an earlier interview, adding that the Government plans to build the road to Lokichar.
The crude oil is expected to be stored in Mombasa until sufficient quantities for export are met.
But it is too early to celebrate because Kenya is far away from starting commercial production of oil. This is expected to start in 2020.
Initial estimates suggest that Kenya will make about Sh6.4 trillion from the Turkana oil find alone if commercial production starts by 2020.
A recent report suggests that the Turkana oil will be completely depleted by 2043. This gives production a maximum of 23 years.
An Oxfam report suggests that the country will make on average of about Sh280 billion every year.
"This amount, however, does not put Kenya in the league of Saudi Arabia," Charles Wanguhu, one of the authors of the Oxfam report, said. Oxfam is a global development charity.
The news from Tullow, which has been exploring oil in Turkana and Elgeyo Marakwet counties, comes at a time when it concluded a successful first phase of drilling and appraisal of the South Lokichar basin. The company has announced plans to continue drilling in four more wells in Lokichar.