Residents affected by oil spill to give up more land for rehabilitation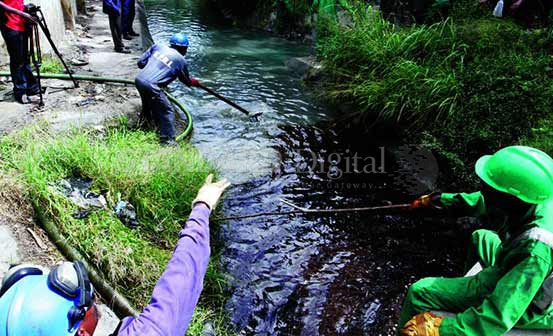 Residents affected by the oil spill into Thange River have been asked to give up more land for rehabilitation. Top officials from Water Resources Management Authority (WRMA) and the National Environment Management Authority (Nema) have urged the local community to cooperate with the contractor to ensure their environment is fully restored.
"So far, we are happy with the progress and we are here today to facilitate the contractor access more land for the benefit of the residents," said WRMA's Deputy Technical Director Dr Margaret Abira.
Residents are required to surrender 30 metres to enable the Kenya Pipeline Corporation and the contractor to continue the clean-up of the oil spillage. Both agencies have given the ongoing Thange River clean-up exercise a clean bill of health.
The clean-up was occasioned by an accidental leakage that occurred in KPC's Mombasa-Nairobi oil pipeline in Thange area, Kibwezi, Makueni County last year, which led to oil products seeping through into River Thange and the adjacent areas.
The clean-up was launched recently by Energy Cabinet Secretary Charles Keter following a directive from Nema after the oil spill.
Nema's Enforcement Director Robert Orina reminded KPC to fully document all the processes and actions of the clean-up and ensure all guidelines and procedures are adhered to according to international practice. "Nema will ensure the clean-up exercise fully restores the environment to an acceptable standard as per the law and its subsidiary legislations," said Mr Orina.
This environmental restoration exercise is being carried out by EnviroServ Kenya, whose terms include conducting clinical examinations and medical sampling of selected local residents and their livestock to establish if their health has been affected. The clean-up exercise will last for about one year.
KPC is providing clean water to the affected people until the completion of the restoration exercise as necessary maintenance of the pipeline is regularly undertaken pending its replacement by a new Mombasa-Nairobi pipeline before the end of this year.
The new pipeline will ensure continued security of supply while mitigating further petroleum products spillages and environmental impact.
Kenyan shilling firm this year as deficit shrinks
Kenya's shilling has held firm against the dollar this year, supported by a shrinking trade deficit, higher transfers from workers abroad and an economy that has escaped the beating taken by others in Africa from weak commodity prices.