East Africa Portland Cement in record Sh745m loss, warns of worse full-year results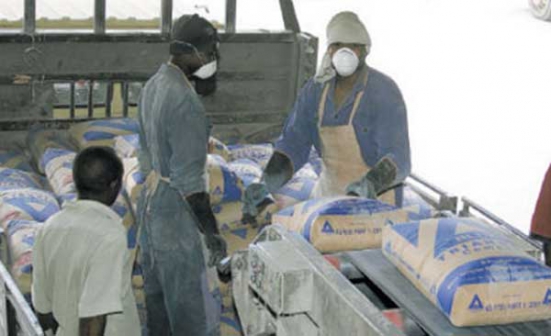 East Africa Portland Cement has issued a profit warning.
The cement maker cited high finance costs tied to its heavy borrowing that sank its pretax losses six-fold to Sh745 million. It would be the worst trading result ever booked by the firm, whose woes were worsened by depreciation of the domestic currency, which has complicated its foreign debt repayment, price wars among rivals and invasion of its land by squatters.
"The company therefore projects that the earnings for the full year ending June 30, 2016 will at least be 25 per cent less than the earnings of the previous year," company Secretary Sheila Kariuki said in a notice to shareholders.
EAPC reported an operating loss of Sh577 million last year while its finance costs were Sh369 million. The firm had, however, earned Sh836 million from the disposal of land to the State for the development of the Standard Gauge Railway line. Using the unit selling price, EAPC revalued its entire 4200-plus acres of land bank to arrive at a 'paper' gain of Sh7.2 billion – which would eventually be factored in as profits.
Part of the land is now at risk after several groups of squatters moved in, subdivided it into plots before settling or selling it to third parties. Attempts to evict them have turned out to be violent confrontations, often with fatal endings and a more emboldened group of squatters who have even sought protection from the courts of law.
Now, the firm says it has been unable to access sections of the land where it mines the raw materials for cement production. "During the period the company's mining activities were disrupted due to invasion of its land in Athi River reducing availability of raw materials and increasing its cost of production," Ms Kariuki reported.
The new projects that the borrowed funds were spent on include a new cement packing line which has already been commissioned and 'contributing positively to the top line'. But the cement maker has acknowledged an even bigger problem that could linger moving forward; a pricing war as total production marches ahead of demand.
Research Analyst at Standard Investment Bank Eric Musau said EAPC is more exposed to higher costs due to increased reliance on imported clinker - owing to disruptions in mining activities following invasion of its quarry.
The last five years have seen the entry of Savannah Cement- associated with Chinese investors, and Devki Group's Simba Cement, upsetting the older and more established players.
On the basis of their relatively newer machines made from superior technology, the two players are producing cement at a fraction of the cost of older players, and therefore able to undercut them in the market.