Equity boss: My zeal to educate poor students is personal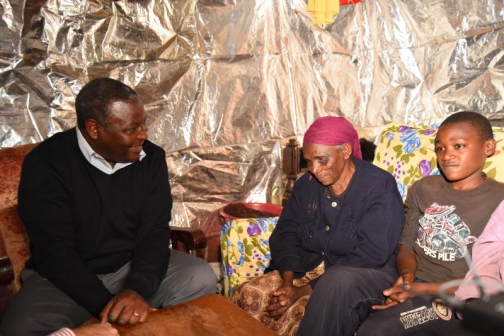 There is one conspicuous man trudging through the streets of Mukuru Kwa Njenga. His well-pressed suit and healthy frame marks him out as a stranger in an environment that is pervaded by filth and poverty. But don't be fooled. The CEO of Equity Bank James Mwangi insists he is at home.
Mwangi is in the company of Canada's High Commissioner to Kenya David Angell. They are here for a life-changing visit to some students whose families are too poor to afford school fees in Mukuru and Sinai slums in Nairobi's Industrial area.
One of those to be visited is Dennis Ongechi, 14, an orphan who lost his parents during the Sinai fire tragedy in 2004 and now lives with his ageing grandmother. "It hurts me when I see bright, young Kenyans drop out of school for lack of school fees. This should not be allowed to happen. We have to fight to give these children a chance in life," says Mwangi.
As a child, a barefoot Mwangi divided his time between Nyagatugu Primary School in Kangema and selling fruits and vegetables to supplement his family's income. He still calls himself a villager and is obsessed with the idea of giving people who share a background similar to his, a lifeline. Ongechi's grandmother, Teresia Nyambura, says he went through a tough life in Sinai.
Ongechi sat the Kenya Certificate of Primary Education (KCPE) exams last year and scored 364 marks. He is set to join Aquinas Boys Secondary after he was awarded a scholarship under Equity Bank's Wings to Fly programme. The programme does not terminate after secondary school education, but continues to university. Exceptional students join the Equity Leadership Programme (ELP), which sponsors 'A' students to top universities around the world.
Mwangi has invested more as a reflection of his personal fascinations. Besides the involvement of the bank and partners like Mastercard Foundation and British development agency, DFID, he has invested a personal fortune, but declines to give figures. It is however on record that in 2013, he gave a personal contribution of Sh100 million for the construction of an innovation centre at Meru University, where he is also the Chancellor.
Some 2,673 students have so far benefited from the Wings to Fly initiative. Mwangi says the additional 2,000 students to be inducted into the programme this year, will not only double the number of beneficiaries, but also give more opportunities to the underprivileged. During last week's visit to the two slums, Mwangi and his team also visited the family of Japheth Onsare, who scored 414 marks in KCPE and is set to join Maseno School.
At Mukuru slums, the team also visited Cynthia Kerubo, 14, who sat KCPE last year and is set to join Moi Girls High School, Eldoret after she was awarded the scholarship.