Women entrepreneurs in Kenya get Sh460m boost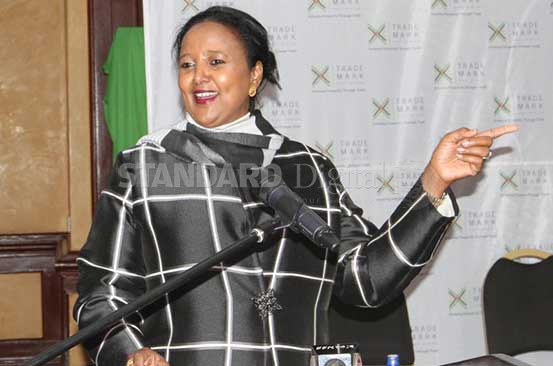 NAIROBI: Women entrepreneurs across East Africa are expected to benefit from Sh460 million ($4.5 million) one year programme aimed at upgrading their businesses through cross-border trade.
The programme, Women and Trade (WaT) funded by Trade Mark East Africa (TMEA) is targeting 25,000 women in Kenya, Uganda, Burundi, Tanzania and South Sudan. About 5,000 women entrepreneurs in Kenya are expected to be beneficiaries.
In Kenya, WaT has partnered with Joyful Women Organisation which will see the women trained on exports requirements, quality and standards as well as facilitate their access to the funds through micro-finances that is expected to increase their income by 10 percent.
Unveiling the programme in Nairobi, Foreign Affairs Cabinet Secretary Amina Mohamed said the move has encompassed the spirit of East Africa Community through trade. "This will go a long way in supporting women in the Small and Micro Enterprise (SMEs) sector not only in Kenya but in the region. Consequently, there will be a multiplier effect on poverty reduction economic growth and numerous employment opportunities," said Mohamed.
Mohamed acknowledged that women entrepreneurs have long being relegated to small scale businesses operating locally due to their lack of financial muscle and inadequate custom trade information. "But through this programme, there will be a significant change which will go parallel with the government's goal of integrating the East Africa region as an overall functional free-Trade area."
According to World Bank report 'Engendering Development' women reinvest up to 90 percent of their income in education, health and family nutrition compared to men who invest 40 percent. TMEA Chief Executive Officer Frank Matsaert said they will be using existing infrastructure in the region to roll out more interventions focused on women entrepreneurs.
"The customs border posts that will be created in Busia, Taveta-Holili, and Malaba are meant to ease women's penetration into new markets. This will reduce significantly the economic wealth gap between men and women," said Matsaert.
TMEA has so far invested Sh122 billion ($120 million) in the Women Cross Border Trade Programme. It also plans to launch a second five year phase of the WaT programme envisaged for 2017 at a cost of Sh1.54 billion ($15 million).