How Kenyans contributed to Safaricom's bigger pie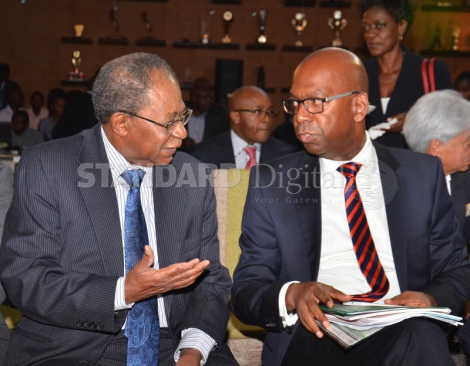 Kenya's largest telecommunications company, Safaricom, Thursday reported a 38 per cent growth in profit to Sh32 billion, as M-Pesa and data revenue growth helped reinforce the firm's reputation as the most profitable in the region.
The results mean Safaricom made Sh87.7 million per day in the year that ended March 31, 2015, which translates to Sh3.6million every hour in profits alone.
The results were music to the ears of the company's board whose chairman, Nicholas Ng'ang'a, announced that it had extended the contract of the firm's CEO, Bob Collymore, by an additional two years citing "the need for continuity".
"In the current business environment where the business is doing well, it is not time to be changing the captain of the ship. We have extended his (Bob Collymore's) term by two years and a bit," Mr Ng'ang'a said Thursday at an investor briefing in Nairobi.
This brings to an end speculation about who will succeed Collymore at the helm of the most profitable company in East and Central Africa until 2017.
Shareholders will now receive Sh25.6 billion dividend cheque, 36 per cent more than what they got in the previous year. This amounts to 64 cents per share. The total dividend payout represents 80 per cent of Safaricom's net income.
Safaricom posted almost double what Equity Bank, which is now Kenya's second most profitable company, raked in. Equity made Sh17.15 billion profit for the year ended December 2014.
The Kenya Commercial Bank (KCB), which has partnered with Safaricom on a mobile loan product, returned a Sh16.8 billion net profit for the same period, coming in third.
But Safaricom outpaced the two on revenues, becoming the biggest beneficiary of the growing mobile banking products.
The mobile firm grew its revenues by 13 per cent in the year under review to Sh163.4 billion. Its service revenue grew by a similar margin to Sh156 billion, while voice revenue was up four per cent to Sh87 billion. Non-voice revenue, on the other hand rose by 27 per cent to Sh68.8 billion.
Voice now accounts for 54 per cent of the firm's total revenue while the non-voice revenue driven by data and Mpesa take up the rest.
"This growth is supported by our loyal customer base attracted by a superior network experience, convenient airtime distribution and attractive customer promotions and propositions," Mr Collymore said.
The firm continued to recruit new customers in the year to March 2015, a drive that saw it grow its subscriber base by eight per cent to 23.3 million.
"We have about one million new customers getting into the market every year and this is the number we want to target," Collymore said.
Revenue from short messages service (SMS) rose 15 per cent to Sh15.6 billion, while M-pesa revenue grew 23 per cent to Sh32 billion. The firm attributes this growth to increased usage of SMS bundles and SMS-based promotions.
The firm now has 13.9 million active users on its mobile money network every month, and this accounts for 60 per cent of its entire customer base.
4G network
Collymore said the firm expanded its M-pesa agent outlets to 85,756, which further boosted its reach. The firm is now counting on the Lipa na Mpesa service to boost use of the platform.
The mobile services provider also has 11.6 million active data customers every month, and boasted 4.3 million customers on 3G-enabled devices March this year. Mr Collymore said the firm's 4G network is now available in Nairobi and Mombasa and they intend to roll it out to 13 other towns across the country by the end of the year.
"Delivery of this 4G push-to-talk network and CCTV cameras is progressing, with phase one on schedule to be launched at the end of May 2015," Mr Collymore said.