No respite for Kenya's huge public debt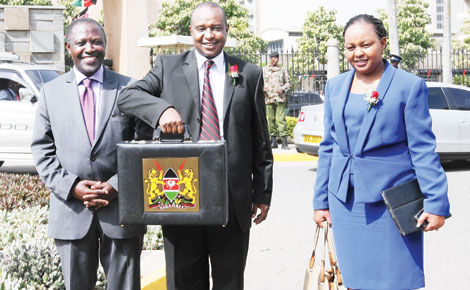 Finance Cabinet Secretary Henry Rotich (centre) with Devolution Cabinet Secretary Anne Waiguru and Mbeere South MP Mutava Musyimi after Budget reading last year. [Photo: File/Standard]
Nairobi, Kenya: Growing public debt has perpetually been a headache to Kenya, especially without significant growth in the economy.
So conspicuous was this burden in the 2008/2009 financial year following the growing budget deficit that had lasted five years, compelling Treasury to allocate a better portion of its revenues to debt servicing.
Such a move, economists argue, meant that the public would not access some goods and services.
During this period, when Kenya was still suffering from the hangovers of the post-election violence and global economic slump, Treasury presented a budget of Sh758.9 billion that saw public debt consume about 22 per cent of the total net expenditure.
Education, a critical economic contributor, took a paltry 17.4 per cent. Despite its failure to re-orient expenditure towards developmental projects, the 2008/2009 budget was lauded for attempting to increase social security across the country.
It was further hailed for its move to invite the private sector to participate in infrastructure financing in the country.
Under the theme "towards inclusive and sustainable rapid economic growth", the 2010/2011 budget did not bring any relief as 70 per cent of the total budget (Sh998.8 billion) went to recurrent expenditure.
Economy
Free primary education consumed Sh9.2 billion, free secondary education Sh16.2 billion, constituency development fund Sh14.3 billion while the economic stimulus package, which was aimed at resuscitating the economy, took Sh21 billion. To grow the economy, the 2010/2011 budget came up with ambitious plans intended to catalyse investment in the country. More than Sh78.6 billion was allocated to roads construction while Sh34.1 billion was set aside for energy "that would lead to expansion of the national transmission grid, rural electrification and geothermal development".
To ensure the speedy movement of goods and services from the point of production to the point of consumption, Treasury said that work was in progress to design and construct a Standard Gauge Double Line railway from Mombasa to Malaba has commenced. Moreover, the Government allocated Sh1.9 billion towards the construction of an urban commuter line in Nairobi.
According to the Institute of Economic Affairs, this was an essential piece of urban transportation infrastructure "but the minister did not mention whether there was opportunity for private sector participation in this project".
Analysts foresee this year's budget may not be any different from the past as far as development and recurrent expenditures are concerned. Indeed, economists say it is time development allocations were increased so as to ignite growth.
They include more allocation on roads, rail and energy. Beyond that, the Government is being petitioned to come up with a robust plan that will check the rising corruption in the public sector. This, together with wastage, critics say, consumes about 30 per cent of the country's annual budget.
Join KTN's Bonnie Tunya live at 12.30 pm (GMT +3) for comprehensive coverage on Budget 2014/15.
Laptrust rebrands to CPF Financial Services Limited
Laptrust Administration Services Ltd, a retirement benefits schemes administrator which manages Kenya's oldest pension scheme covering county government employees, has changed its name to CPF Financial Services Ltd.