If corruption thrives, Martha Karua will walk away from the government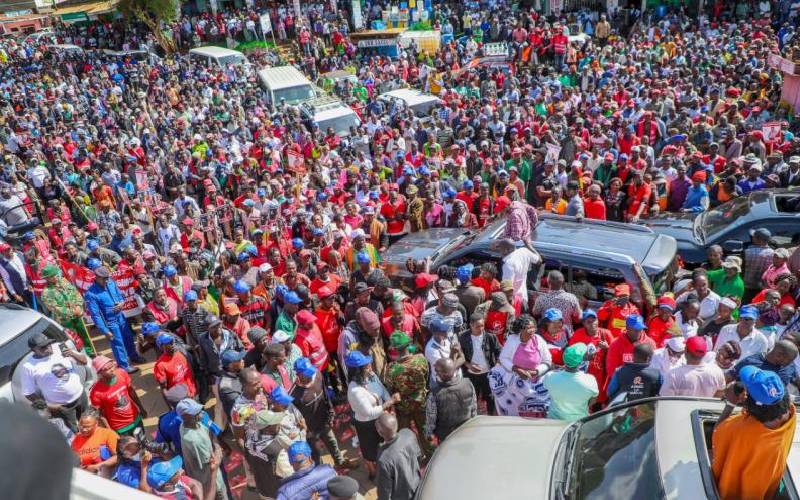 If you want something said, ask a man; if you want something done, ask a Woman-Margaret Thatcher.
She was still on her feet when mummers and excitement burst into a thunderous applause. The mood was electric. She smiled and waved as the clapping continued. When silence eventually enveloped the room, I led her out as participants went into a health-break. She had another appointment to attend to.
She had skillfully walked journalists and editors through key legislations that govern elections in Kenya. She weaved into devolution and delved into the role of the media in interrogating governance in Kenya. We reached her vehicle in the basement of Nairobi's I&M building. Before she entered her car, I told her: "Mheshimiwa, you have a very rich history. I should write your book one day". She stared at me intently. Her large beautiful eyes cut through me. Then she broke into a warm smile: "Thank you Bwana Atemi indeed we should."
Martha Wangare Karua, was one of my favourite facilitators during my training sessions on Conflict Sensitive Journalism at Internews in Kenya. I was in charge of the Free and Fair Media Programme, and we conducted training for journalists on election reporting.
Kenya had suffered violence after the December 2007 elections. The media had been accused of fueling the post-election violence through biased and insensitive reporting. We were eager to help the country heal and avoid flare ups during the 2013 polls.
I remembered that basement moment when early in the week, the Azimio presidential aspirant Raila Odinga introduced Karua as his running mate for the 2022 General Election. As the multitude in KICC grounds broke into song and dance, I visualised the book. This brilliant lawyer and long-term MP for Gichugu constituency, is a breath away from becoming Kenya's Kamala Harris.
I have covered Karua for years; from the trenches to the court benches. When Kenya was in the grip of authoritarian rule and few could dare stand against the State, she joined those fighting for the voiceless. Karua has been through the rough and tumble of Kenyan politics. She has been scarred and bruised. She has been wounded and battered. She has soldiered on. Many times, she simply walked away to fight another day.
Tough negotiators
The 1992 multiparty elections were tough for most politicians. Karua had staked her maiden entry into elective politics on Kenneth Matiba's Ford Asili. She lost to the late Godfrey Kareithi, the former powerful Head of Civil Service in Jomo Kenyatta's government. Word reached Mwai Kibaki who was the leader of Democratic Party (DP). He got interested and brought Karua into DP. She won the subsequent poll.
At the Bomas of Kenya conference, when Kenyans were seeking ways of reviewing the Constitution, Karua was associated with a team of tough negotiators which included Kiraitu Murungi, Simeon Nyachae and John Michuki to protest against the introduction of a powerful Prime Minister's slot.
This team later joined Attorney General Amos Wako to birth the Wako/Kilifi Draft of the Constitution. The draft was subjected to a national referendum in 2005. The 'Yes' team had a Banana as its symbol while the 'No' team had the Orange symbol. Karua was in the Banana team and Orange team had Raila Odinga, Kalonzo Musyoka, William Ruto and Uhuru Kenyatta.
Orange won in seven out of the eight provinces. The contest led to the ejection of the Liberal Democratic Party (LDP) wing from the Kibaki government. Inflammatory utterances from these campaigns set the stage for the 2007 contest and a disputed presidential outcome, and consequently post-election violence.
As chaos erupted at the national tallying centre at KICC, Karua's critics argue that she took a hardline stance as the country burnt. She was described as the only 'Man' at KICC who was defending Kibaki. She carried the day. That was vintage Karua: Abrasive, and at times irascible and inflexible. It is these qualities that earned her the title of 'Iron Lady' once she joined the Kibaki government.
Eventually, Kibaki and Raila formed the grand coalition government with Raila as the prime minister. Uhuru Kenyatta and Musalia Mudavadi were appointed deputy prime ministers and Karua was given the Ministry of Justice, National Cohesion and Constitutional Affairs.
Successful legal career
Karua has had a brilliant and successful legal career. She dared where others couldn't tread. She worked as a magistrate between 1981 and 1987 when she started her own law firm, Martha Karua and Co. Advocates.
Then she took what many thought was a suicidal route: she defended Koigi Wamwere and Raila in their treason trials. She defended several human rights activists. Defending such individuals in the era of single party rule could easily have destroyed her career and law firm. She survived.
In 1998, Karua declined the position of Shadow Cabinet Minister for Culture and Social Services. In 2001, when the Constitutional Review Bill was laid before the House, all Opposition leaders walked out of Parliament. Karua remained behind and had her objections to the Bill recorded in the Hansard. She fought for the expansion of the democratic space.
Her critics say that as Justice minister, she delayed the passage of the new Constitution and that it was Mutula Kilonzo who delivered the 2010 Constitution. On April 6, 2009, Karua resigned as Minister of Justice and Constitutional Affairs. She cited frustrations in discharging her duties. It is said she rebuffed efforts by Kibaki through elders to rescind her decision. Her critics called her an abrasive quitter.
In 1997, during the height of Kanu supremacy, Karua walked out on President Moi at a national meeting in Kirinyaga. This was open defiance to the Head of State. Some interpreted this as the height of impudence and bad manners.
In 1995, her efforts for advancing the cause of women were recognised by the Federation of Kenya Women Lawyers. In 1999, the Kenyan chapter of the International Commission of Jurists gave her the 1999 Kenya Jurists of the Year award. In the same year, the Law Society of Kenya, gave her the Legal Practitioners Due Diligence Award.
As minister of Water Resources Management and Development, Karua initiated the implementation of the Water Act 2002 which brought major reforms and improved service provision. Her former public relations officer at the Water ministry, Mwangi Gakunga, says that she respected protocol and hardly interacted with other officers directly. She handled administrative matters through the Permanent Secretary. "However, in any direct dealing, she was firm but respectful, clear in her instructions and never petty."
Autonomous institutions
"Her leadership introduced major reforms in the water sector. It decentralised the water sector and separated regulatory and financial services. It created the current autonomous institutions: Water Services Regulatory Authority, regional water services boards, Water Services Trust Fund etc."
Karua has had her own share of controversies. At one time she and a Catholic priest Fr. Dominic Wamugunda, were carjacked and robbed on the way to her house. She was in Wamugunda's car. She said in Parliament that she was under no obligation to provide any explanation on why she was in Wamugunda'as car or what she was doing at the time of the carjacking.
If Azimio wins the presidential contest, Raila will have to ensure his government is devoid of dubious and corrupt individuals otherwise he will face the wrath of his deputy. Former Deputy Chief Justice Dr Nancy Barasa and former chair of the Kenya National Commission on Human Rights, Kagwira Mboghori said in a TV interview that the Karua's choice excited them because they know that the corrupt in Kenya will have nowhere to run.
Veteran Journalist Ken Bosire says of Karua: "With her reform credentials, she can help push the elusive gender dimension to the Kenyan politics."
If Azimio forms the government, Karua will have followed in the footsteps of the 'Iron Lady' of world politics, Margaret Hilda Roberts Thatcher, who in the 1980s became Britain's first female Prime Minister. If Raila doesn't run matters ethically, Karua will put on her shoes and walk away from his government.