Police get tough procedures for investigating terror cases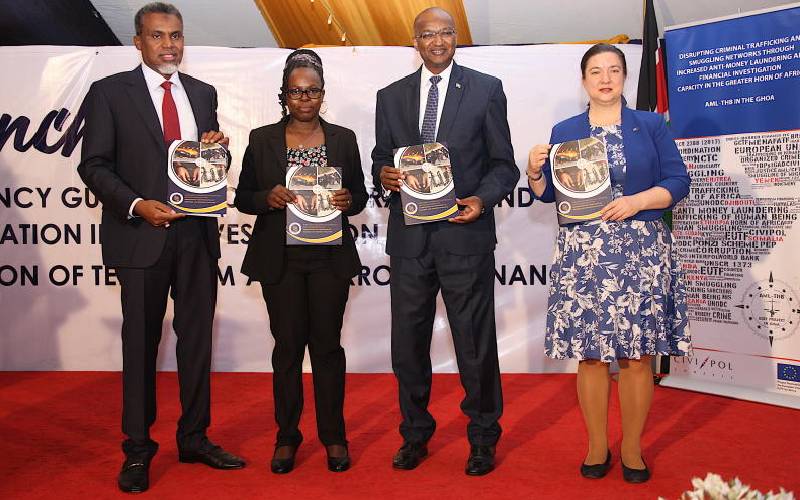 Detectives investigating terror-related cases must first notify the Office of the Directorate of Public Prosecutions (ODPP) in a new raft of measures launched on Tuesday.
Though Anti-Terrorist Police Unit (APTU) sleuths who fall under the Directorate of Criminal Investigations (DCI) will remain the lead agency in investigating suspected cases of terrorism and terrorism financing, such investigations going forward, shall be prosecution guided.
From the onset of investigations, the ODPP shall be provided access to all the relevant information throughout the entire process according to the measures contained in a booklet titled Inter-Agency Guidelines on Cooperation and Collaboration in the Investigation and Prosecution of Terrorism and Terrorism Financing.
Speaking during the launch guidelines at Prosecution Training Institute in Loresho, Director of Public Prosecutions (DPP) Noordin Haji said the war against terror must be multi-faceted and thanked state and non-state actors that came up with the guidelines.
"I am confident that these guidelines will provide the perfect tool of engagement between investigators, prosecutors and other law enforcement agencies. I anticipate that this spirit of inter-agency cooperation and collaboration will guide us as we disseminate and implement them," said Haji.
Other measures spelt out in the booklet are information sharing, confidentiality and security of information, protection of data, enforcement, prosecution, disengagement, community engagement, and detention of remandees and convicts.
Others include respect for human rights, witness and victim protection, capacity building and international cooperation.
In recent past years, Kenya has increasingly become a target for terrorist activities prompting security agencies to devise countermeasures.
In the process of dealing with the problem, police have often been accused of resorting to extra-judicial killings and enforced disappearances.
"The ODPP shall guide investigations into terrorism and terrorism financing pursuant to the provision of the Constitution of Kenya, 2010 and ODPP Act," states the guideline.
While conducting probes, the concerned agencies may time to time, form ad hoc joint investigations teams (JITS) that shall comprise experts who will determine roles, mode of working and aspects of investigations to focus on.
Pre-arrest conference
Further, save for exceptional circumstances, investigative agencies must inform the ODPP when the investigating officer is considering building an evidential case relating to a suspect against whom there is an intelligence picture and when an arrest is being contemplated.
The ODPP should be in the know when any ancillary application like a search warrant, intercept order, detention order or restraint of assets, is being contemplated.
"Where an arrest is made without prior notification of the ODPP, the ODPP shall be notified immediately," states the guidelines likely to rub police the wrong way.
Before an arrest of a suspect is carried out, the ODPP and investigating officer will hold a pre-arrest conference.
This will enable the prosecutor to offer the required advice such as possible offences to charge, lines of inquiry and admissibility of evidence among others.
One of the key objectives of the guidelines is to foster accountability, efficiency and expeditiousness in the investigation and prosecution of terrorism and terrorism financing.
The collaborating agencies are ODPP, APTU, Kenya Revenue Authority, Central Bank of Kenya, National Police Service, Immigration Services, Asset Recovery Agency, Judiciary, Financial Reporting Centre, Probation and After Care Services, National Counter Terrorism Centre and Kenya Prison Services.
European Union Deputy Ambassador Katrin Hagemann who was present, said the EU funded the formulation of the guidelines to a tune of Sh629 million.
"Kenya for us has been quite a focus in the legal area and we have one of the largest forums in the justice sector in sub-Saharan Africa. In Kenya we can make a difference and not because there is so much wrong in the justice sector," said Ms Hagemann.
Director-General of Immigration Services Alexander Muteshi said to win the war on terrorism, multi-agency cooperation and collaboration are needed rather than working as separate entities.
Inspector-General of Police Hillary Mutyambai said the guidelines will be a greater tool in harmonising their approaches and synergises towards efforts combating terrorism.
The chief guest, CBK Governor Patrick Njoroge, said the guidelines have elements of collaboration, best practices and speed, hence removing delays experienced before.
"We expect these guidelines will allow significant improvement in the cooperation of investigation and prosecution of these offences thus lead to more prosecution and conviction of terror suspects," he said.
Fuel prices likely to rise by Sh40 a litre
The higher prices will add to the pain that Kenyans have grappled with at the pump following weeks of intermittent supply of fuel, with many having had to queue for hours to buy fuel.