Three deny murdering Sudanese, denied bail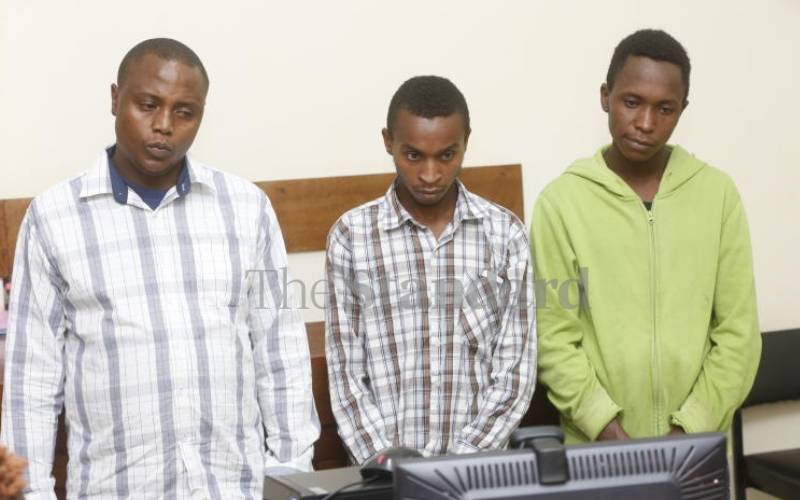 Three Nakuru residents were on Monday charged with the murder of a Sudanese national and the attempted murder of four others.
David Mwangi, John Nganga and Stephen Waganga appeared before Justice Teresia Matheka of the High Court in Nakuru.
They denied killing Garang Chol Ajang at Zambezi Apartments in Mawanga area of Nakuru East Sub County.
According to the charges, the three allegedly killed Chol, 21, after setting Jacob Majur Ajang's house on fire on March 18, 2022, while he was inside. Majur survived with minor injuries.
Also inside were Chol's brother Ajang Chol, Bul Garangis, Mathew Guor and Elijah Akuien, who is currently at Nakuru Level Five Hospital after suffering burns during the incident.
Through their lawyers, the three pleaded with the court to be released on bail.
Mwangi also urged the court to order his identity card and mobile phone which were confiscated by the police released to his family.
"My family depend on my mobile phone to conduct business, they will go hungry if it is not released," pleaded Mwangi.
Ms Matheka advised the prosecution to liaise with the investigating officer to see how he could he helped.
The prosecution opposed bail for the accused persons. The court heard that the ground was still unstable and hostile and if released, the three could be lynched by an irate mob.
She further ordered for a pre-bail report to be filed by Thursday to assist the court in determining if the accused persons should be granted bail.
"The victim's family and the accused are to be interviewed and an oral or written report filed in court on Thursday," ordered Matheka.
The three will be remanded in custody until then.
The accused persons had in the afternoon appeared before Chief Magistrate Lilian Arika to answer to the charges of attempted murder of Majur and the four in hospital.
They denied the charges. The case before Ms Arika will be mentioned on April 14.