One dead, four injured in brawl involving South Sudan nationals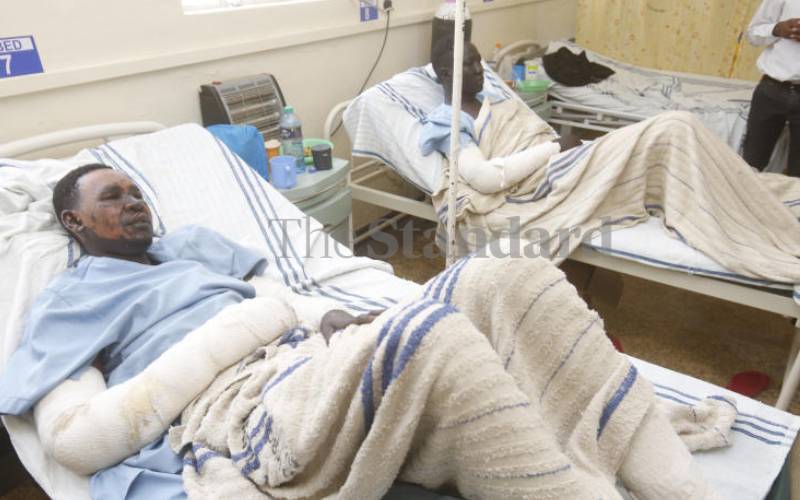 A fight between a Kenyan and South Sudanese youth in Nakuru has escalated to a diplomatic matter.
The Friday night confrontation between a Kenyan woman and a South Sudanese man in Mawanga estate has left one dead and four others nursing severe burns at Nakuru hospitals.
"It is sad that we lost one person who succumbed to his injuries. Four others are still in hospital," said Mr Bol Ajak, the chairperson of the South Sudanese community in the county.
Top security officers in region yesterday held talks with officials from the South Sudan Embassy as the police continued to compile evidence.
Addressing the press at Nakuru Central Police Station, Mr Andrew Kuol Agok, a consul service officer at the South Sudan Embassy in Nairobi, said the matter was being taken seriously.
"We call for calm. This is a matter that is being handled by the Kenyan government. We have however shared the information with Juba. We are confident that justice will be served," said Agok.
The police were hesitant to divulge more details about the incident reported vide OB Number 03/19/03/2022 at Central Police Station in Nakuru East.
"We are currently holding a meeting at the regional headquarters over the attack. We shall brief you later," said Nakuru East Sub County Police Commander Elena Kabukuru.
Mr Garang Ajang, 21, died at the Nakuru Level Five Hospital on Sunday afternoon where he was receiving treatment.
His brother Mr Ajang Chol, 28, is in the Intensive Care Unit at Nakuru Nursing Home. Bul Garang, 28, Mr Mathew Guor, 26, and Mr Elijah Akuien, 25, are at Nakuru Level Five Hospital.
"The three suffered second-degree burns of between 12 and 21 per cent. A plastic surgeon is attending to them to see if they will need grafting," said the hospital's Deputy Medical Superintendent Dr James Waweru.
According to witnesses who sought anonymity, the fight began after one of the South Sudanese men harassed a woman at Mawanga Trading Center on Friday at around 9:30pm.
"The young man tore the woman's blouse and bra under unclear circumstances. A passerby who came to her rescue was assaulted, sparking further outrage," said a trader. The victims, however, had a different narrative, claiming that the woman called them names while at a local shop and called youths to attack them.
"Chol and I went to a shop where we found a young woman. She accused us of harassing her. Some locals started hurling stones at us and Ajang was badly wounded," said Mr Mathew Guor, 26.
The two fled to their nearby house where they joined their four brothers but a mob followed them.
"I heard a commotion and rushed out of the house where I found my brothers fighting other people. I pulled them into the house and locked ourselves in," said Mr Jacob Majur.
He explained that one of the men was baying for their blood, claiming that his wife had been harassed by one of my brothers.
"A group of around 25 people shattered all glass windows. They broke into the house and dragged out our younger brother Ajang whom they mobbed almost to death at the gate," said Majur.
The mob doused the house with paraffin before setting it ablaze while the five were still inside.