War in Somalia: Broken families the government chose to forget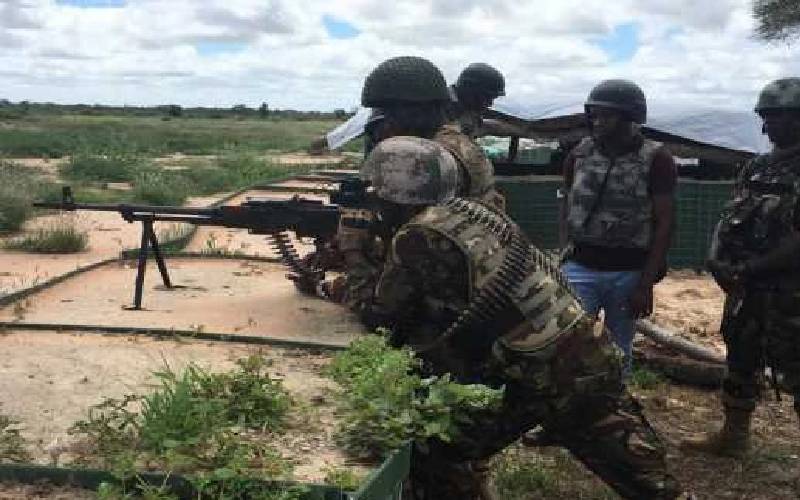 A decade later, Kenya's mission in Somalia trudges on. Yet, even as the Kenya Defence Forces (KDF) marked this anniversary, some within its ranks think the victories over this decade of war remain few and far between. But others think the victories are many, crucial even to the sovereignty of the Kenyan state.
The country is arguably more secure from the threat of terror than 10 years ago. Several terrorist cells that had inflicted unforgettable pain on the nation have been dismantled; potentially deadly attacks have been foiled through a combination of intelligence briefs gathered in Kenya and Somalia as a direct result of the incursion.
In the last 10 years, the public has yo-yoed between various stages of support for the incursion and what turned into the government's strategy in countering violent extremism.
But, for some, this peace has come at a great cost. The biggest being the breaking of things that can't be put back together, not even by the string of victories enjoyed.
Broken families. Broken wives. Broken children and broken men. Broken veterans. And with this, a vicious cycle has put some of the country's bravest sons and daughters in an eternal dance with death.
Having survived the battlefields in a foreign land, they come home to die from wounds inflicted away from the war zone.
Fresh soil
To be a soldier is to be secretive. Secretive and hard. Hard both on the inside and outside. Outside to withstand any physical abuse. Inside to keep your thoughts and feelings under lock and key. But man wasn't built to keep things inside. At least not naturally.
Reuben Ngome remembers the small details that made him think his older brother, Martin, was unable to keep everything bottled up.
Some time in 2012, a large family gathered around a fresh mound of soil at the centre of a family compound in Western Kenya wondering how this could have happened. A sole picture rested comfortably on the dirt. On it, a man in army uniform smiled broadly. His eyes looked right past them. As if they were looking at something bigger.
For the fathers that departed
When the drums of war started sounding in various army barracks dotted around the country, Martin was one of the men who answered the call of war. Like all those who had come before him, and like many more to come after him, this call is what he had trained for all his life.
There was nowhere else he could rather be. The safety of the country and the people was at stake. This was his chance to protect the people he loved. But more importantly, it was a chance to provide for his family. For his mother. His wife. His daughter. His brother.
Martin wasn't the first one in his family to join the forces. There were others who marched before him, who carried the weight of expectation on their shoulders. But he was the first in his family to come back home in a coffin.
If their lives were a Hollywood movie, news of his death would have been relayed in person, and by a high-ranking military officer. Other times by his peers.
Things are a bit different outside the scripts, where life is without edits.
One evening in 2012, Reuben received a call from an officer in Somalia. The call was to the point.
"He asked me if I was his brother. He asked me how old I was. And then he told me," Reuben says.
And then the details followed.
Martin, who fought under the Eldoret-based 9th Battalion, had died in combat. He was one of nine to fall to an ambush by Al Shabaab - the terror network that had compelled Kenya's military to invade Somalia on a pacifying mission. This was his first mission as an army man. He had served for less than two years.
"This broke us," Reuben says. "Our mother is still picking up the pieces of this part of her life."
He didn't break the news to other family members until two days later.
"I don't possess the courage that he did," he says. "I was afraid of what might happen once I told them."
He eventually did, and amid the confusion, the anger, the questioning, Martin's body was brought back home from Kismayu via Forces Memorial Hospital mortuary, and buried.
At that moment, Reuben, a pastor, questioned God for the first time.
"I didn't understand how this could have happened. Why him? Why so soon?"
Forgotten children
But in his grief, he remains stoic. Almost stately. Determined to show as little emotion as possible. Among his people, the Bukusu, it is taboo for a man to cry. To show weakness. To speak openly and candidly about the things that keep him awake at night. He is expected to deal with them. Fight his own demons and let those around him talk of his victories. But all these are forgotten when he sees his 15-year-old niece.
"She looks just like him," he says, and then looks away.
The teenage girl was six when her father left for the war in Somalia.
There are many things she doesn't know, like why her father left home. Or why he never came back.
But as she grew older, she started to contextualise his death. There is joy. There is pain, too.
Her grandmother often talks of Martin's dreams and ambitions. She talks of all the plans her son had. Sometimes, she talks as if he will walk home one day. As if his plate of food still sits by the fireplace, kept warm by the ashes from last night's fire.
And then she remembers. Remembers that he is not coming back home. Not today. Not any other day.
"When she does this, she is inconsolable," her uncle says. "These memories have kept their mother in and out of hospital.
"Sometimes, the doctors can't see anything wrong with her."
But the 15-year-old sees something. She sees how the death of a father she had just started to know weighs down on her grandmother. A kind of suffocating weight that never really leaves. She also sees other things. She sees how no one in her family talks about Somalia. No one talks about the war.
Even her uncles, currently in the military, never talk about their experiences when they come home. Neither do they talk of her father. Instead, they talk to her about staying strong. About keeping the family name upright. About duties and responsibilities. About individual valour. But never about why he went to war, or why he died there.
She hears whispers about dissatisfaction with what the government did for the family soon after her father died. Whispers about why other family members continue to serve a master who has already taken so much from them.
Act of God
"But I move on," she says. "I may not know many things. But I know I will not join the army."
For the siblings who introduced the military into this homestead, things will never be the same.
They say the family has never healed. They say they do not want to go on record on their experiences or their struggles because they still serve a country they pledged allegiance to.
"We don't want to talk about this. We have had a painful nine years as a family," one of them says. "We hoped for things at the beginning of the process that would help us navigate our sadness. But we got no help."
Reuben has rubbed off on them. Collectively they agree that the death of their sibling was an act of God. Collectively, too, they agree to keep wearing the black, white, red and green, and hope that the shield cutting across these colours will provide cover for them. That none of them will come back the way their brother did.
Unfortunately, theirs is not the only home that is going through this.
For the past 11 years, soldiers have died in the war leaving behind widows and children. To date, there is no official data on the casualties.
Like always, the army continues to march. Ever marching on.
[Daniel Wesangula, Micah Sali and Titus Too]