Suspect in husband's murder was also 'married to victim's brother'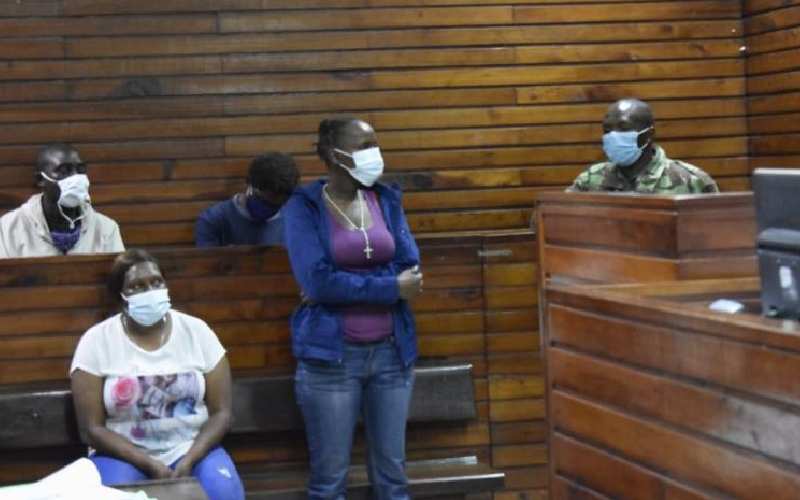 A woman charged with murdering her Dutch husband was also married to the victim's brother, according to documents tabled at the Mombasa High Court.
On Thursday, Mrs Rizik Cherono denied charges of orchestrating the June 4 murder of her husband, Herman Rouwenhorst, at their home in Shanzu, Mombasa.
An affidavit produced before Justice Ann Ong'injo sworn by a detective, Ruben Mwaniki, revealed that Cherono planned, procured and facilitated the perpetrators, who killed the husband.
"The respondent (Cherono) claims to have been married to the deceased (Herman) but we have established through a marriage certificate that she was the wife to William Rouwenhorst, a brother to the deceased.
"They sired a child with the said brother of the deceased," said Mwaniki.
Cherono is said to have planned the murder of Herman for her own benefit, according to Mwaniki.
The two brothers have vast investments in entertainment and real estate in Mombasa.
In the affidavit, it is revealed that Cherono was married to the William Rouwenhorst.
Mwaniki produced a marriage certificate to prove the allegation.
It indicates that Cherono had children with the two brothers at different times.
Mwaniki further produced a birth certificate of a child Cherono and William had after their marriage.
Cherono also sired two children with the late Herman.
Cherono's children have been lined up as the prosecution witnesses according to the Director of Public Prosecution.
"Since the arrest of her accomplices, we have received evidence that the respondent authored the crime by planning, procuring and facilitating the perpetrators for her own benefit," said Mwaniki.
The said accomplices include Cherono's former employee and close friend, Mary Nekesa Ambani, who has been detained for 21 days.
Another suspect in custody for the murder of Herman and his security man, Evans Pole Boroko is Timothy Omondi Ngoe (22) alias Rashi.
In court, Cherono denied killing Herman and Boroko on the night of June 4, 2021, at the Roco Apartments in Shanzu within Mombasa County.
She claimed she was just a scapegoat to save the face of investigators.
But the investigators said Cherono took her accomplices to the house and even photographed the bedroom where the murder was committed.
"The accused person gave a key to the perpetrators to access the house on the material date when the murder was executed.
The accused was persistent when the murder was not committed on two previous occasions," said Mwaniki.
Director of Public Prosecution counsel Abdi Hassan opposed the release of Cherono on bond because her children were witnesses in the case.
Cherono has been incarcerated for 30 days since her arrest on July 22, 2021.
She asked the court to commit her to Sh100,000 cash bail or an alternative bond of Sh400,000 plus one surety of the same amount.
The case is set for pr-etrial on August 16, 2021.