Sonko to face assault charges as Jubilee moves to cut him off, for good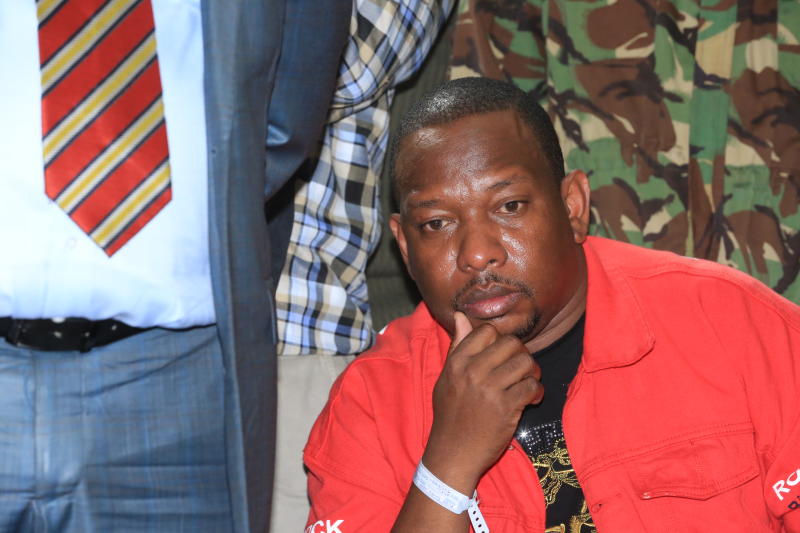 Embattled city governor Mike Sonko earned a fresh date with court yesterday as Jubilee Party explores options to have him replaced, for good.
Yesterday, Police Spokesman Charles Owino confirmed that Sonko must appear in person at Voi law courts on Wednesday to answer assault charges relating to the scuffle that characterised his arrest.
This follows the clearance for his prosecution by the Office of the Director of Public Prosecutions (ODPP). Sonko was earlier this week slapped with a Sh357 million graft charge.
And as he fights his corruption and assault charges in court, Sunday Standard has learnt that it is getting hotter for the governor in the political corridors.
In the works is a possible impeachment and bid to have Polycarp Igathe, the 2017 elected deputy governor and Sonko's running mate, back at City Hall.
Others being considered for the job are former aspirant Peter Kenneth and former MP Dennis Waweru. Kenneth lost on Jubilee primaries in 2017 to Sonko and cried foul while Waweru had expressed interest but backed off last minute, opting to defend his Dagoretti South seat.
But some Jubilee insiders are unsure of Igathe, arguing he can't handle City Hall chaos having taken off at the slightest frustration, even without seeking advice from the party.
"Igathe would have been our best bet, but his premature resignation without consulting the party leadership means he cannot withstand immense pressure. When the kitchen gets hot, he will take off," said a top official aware of the ongoing deliberations.
The other option on the table is to send Sonko packing through a vote of no-confidence (impeachment process) by the MCAs. President Uhuru Kenyatta is reported to be opposed to a by-election.
"Impeachment is on the table. Operations at the county have stalled. The National Treasury has withheld funds due to the county over the Sh19 billion Pending Bills, but even if it's released, the leadership is not properly constituted," the official said.
As the officials weighed in, Jubilee Secretary General Raphael Tuju was explaining how the party got stuck with the Sonko phenomenon.
"Sonko's candidature was a bit complicated," Tuju told Sunday Standard in near-regret terms. "We tried our best to ensure the choice we took was the choice of the people. If we did anything else, we'd be accused of imposing a candidate on the electorate."
He said the party's hands were tied with the popularity that Sonko enjoyed in the run-up to the election. "The people were calling out for him. Would you want to blame the party or the people who elected him?" he posed, adding: "Really what could we have done? If we rejected him, our opponents were waiting to snap him up."
Former Jubilee Vice Chairman David Murathe intimated that it's not an impossibility to consider Igathe despite his resignation last year over what he termed as lack of trust by his boss.
"It is not impossible. Even in West Pokot, Deputy Governor Nicholas Atudonyang, a US-based Neurosurgeon, has been working from America without a salary. There is nothing different with Nairobi even if Igathe took a job in the private sector," stated Murathe.
Besides lack of a deputy, Sonko's cabinet is not properly constituted as a number of his CECs are acting. The county also lacks a substantive clerk after the MCAs ousted Jacob Ngwele.
"We are consulting widely. We will engage our lawyers to see how best to arrest the situation," said another JP member.
Efforts by the besieged governor to seek amnesty with the President was thwarted as his emissaries were tuned away. Sources close to the President told Sunday Standard the Head of State has vowed that he will not relent on the war on graft and that is why his close allies have been the first casualties.
Immediate former county Assembly Majority Leader Abdi Guyo said Igathe can steer the county government forward. "We have worked with him. We believe he is able to run the county's affairs," said the Matopeni Ward Representative.
Lawyer Steve Ogolla said the governor squandered his opportunity to nominate a deputy and any effort to nominate a candidate now will be an exercise in futility as the process can be challenged in court.
"The county needs an urgent solution," he cautioned.
He suggested that the President's ruling party, which has the majority in the county assembly and the Senate, can advise the governor to resign to pave way for fresh polls or push to have him impeached.
Senate Devolution Committee Chairman John Kinyua admitted that the situation in Nairobi is unique, noting that the governor has not been suspended and the absence of a deputy complicates matters further.
"This matter requires wider consultations," he urged.
Sonko's lawyers maintain that he is only barred from accessing his office as it is viewed as a 'crime scene', but he is not blocked from carrying out his functions.